Electrogenesis of end-plates of mdx mice diaphragm: effect of cell therapy
Natalya Timonina

Saint Petersburg State University, 7–9, Universitetskaya nab., Saint Petersburg, 199034, Russian Federation

Violetta Kravtsova

Saint Petersburg State University, 7–9, Universitetskaya nab., Saint Petersburg, 199034, Russian Federation

Elena Mikhailova

Saint Petersburg State University, 7–9, Universitetskaya nab., Saint Petersburg, 199034, Russian Federation

Anastasia Sokolova

Institute of Cytology Russian Academy of Science, 4, Tikhoretsky pr., St. Petersburg, 194064, Russian Federation

Vyacheslav Mikhailov

Institute of Cytology Russian Academy of Science, 4, Tikhoretsky pr., St. Petersburg, 194064, Russian Federation

Igor Krivoi

Saint Petersburg State University, 7–9, Universitetskaya nab., Saint Petersburg, 199034, Russian Federation
Abstract
Disturbances of muscle electrogenesis are observed in a number of muscle pathologies, particularly, they are found in the mdx mice, which are a laboratory model of Duchenne myodystrophy. This myodystrophy develops due to mutations in the gene of the dystrophin protein, which controls the synthesis of this protein in the cytoskeleton. The effectiveness of therapy for such myodystrophy by methods of cellular and genetic engineering has not been studied with regard to the muscle membrane electrogenesis. In this study, two months old mdx mice were irradiated by X-ray at a dose of 3 Gy and injected intravenously by wild type bone marrow cells suspension from long bones of C57Bl/6 mice. Four months after such non-myeloablative bone marrow cells transplantation the recovery of resting membrane potentials as well as parameters of miniature end-plate potentials of mdx mice diaphragm muscle was observed. Our data show the effectiveness of the replacement of the mutant bone marrow with the bone marrow of wild type in myodystrophy caused by the deficiency in dystrophin protein synthesis. Refs 20. Figs 3. Table 1.
Keywords:
mdx mice, dystrophin, end-plate electrogenesis, non-myeloablative bone marrow transplantation
Downloads
Download data is not yet available.
References
Partridge T. A. Models of dystrophinopathy, pathological mechanisms and assessment of therapies. Dystrophin — a Gene, Protein and Cell Biology. Eds S. C. Brown, J. A. Lucy. Cambridge, Cambridge University Press, 1997, pp. 310–330.
Rafael J. A., Townsend E. R., Squire S. E., Potter A. C., Chamberlain J. S., Davies K. E. Dystrophin and utrophin influence fiber type composition and post-synaptic membrane structure. Hum. Mol. Genet., 2000, vol. 9, no. 9, pp. 1357–1367.
Galbiati F., Razani B., Lisanti M. P. Caveolae and caveolin-3 in muscular dystrophy. Trends Mol. Med., 2001, vol. 7, no. 10, pp. 435–441.
O'Brien K. F., Kunkel L. M. Dystrophin and muscular dystrophy: past, present, and future. Mol. Genet. Metab., 2001, vol. 74, no. 1–2, pp. 75–88.
Lyons P. R., Slater C. R. Structure and function of the neuromuscular junction in young adult mdx mice. J. Neurocytol., 1991, vol. 20, no. 12, pp. 969–981.
Ghedini P. C., Viel T. A., Honda L., Avellar M. C., Godinho R. O., Lima-Landman M. T., Lapa A. J., Souccar C. Increased expression of acetylcholine receptors in the diaphragm muscle of MDX mice. Muscle Nerve, 2008, vol. 38, no. 6, pp. 1585–1594.
Sokolova A. V., Mikhailov V. M. Transplantatsiia stvolovykh kletok kostnogo mozga kak sposob lecheniia miodistrofii myshei mdx [Transplantation of bone marrow stem cells as a way to treat muscular dystrophy mice mdx]. Tsitologiia [Cytology], 2010, vol. 52, no. 6, pp. 506–507. (In Russian)
Hirn C., Shapovalov G., Petermann O., Roulet E., Ruegg U. T. Nav1.4 deregulation in dystrophic skeletal muscle leads to Na+ overload and enhanced cell death. J. Gen. Physiol., 2008, vol. 132, no. 2, pp. 199–208.
Allen D. G., Gervasio O. L., Yeung E. W., Whitehead N. P. Calcium and the damage pathways in muscular dystrophy. Can. J. Physiol. Pharmacol., 2010, vol. 88, pp. 83–91.
Miles M. T., Cottey E., Cottey A., Stefanski C., Carlson C. G. Reduced resting potentials in dystrophic (mdx) muscle fibers are secondary to NF-κB-dependent negative modulation of ouabain sensitive Na+–K+ pump activity. J. Neurosci., 2011, vol. 303, no. 1–2, pp. 53–60.
Wood S. J., Slater C. R. Safety factor at the neuromuscular junction. Prog. Neurobiol., 2001, vol. 64, no. 4, pp. 393–429.
Sokolova A. V., Zenin V. V., Mikhailov V. M. Struktura nejromyshechnyh soedinenij i differencirovka poperechno-polosatyh myshechnyh volokon u myshej mdx posle kletochnoj terapii stvolovymi kletkami kostnogo mozga [Structure of neuromuscular junctions and differentiation of striated muscle fibers of mdx mice after bone marrow stem cells therapy]. Tsitologiia [Cytology], 2010, vol. 52, no. 5, pp. 399–406. (In Russian)
Mikhailov V. M., Sokolova A. V., Kravtsova V. V., Zenin V. V., Kaminskaya E. V., Timonina N. A., Krivoi I. I. Non-myeloablative bone marrow stem cell transplantation for mdx mice myodystrophy therapy.
J. Cell. Sci. Ther.
, 2012, vol. 3: 122.
https://doi.org/10.4172/2157-7013.1000122
Heiny J. A., Kravtsova V. V., Mandel F., Radzyukevich T. L., Benziane B., Prokofiev A. V., Pedersen S. E., Chibalin A. V., Krivoi I. I. The nicotinic acetylcholine receptor and the Na,K-ATPase α2 isoform interact to regulate membrane electrogenesis in skeletal muscle. J. Biol. Chem., 2010, vol. 285, no. 37, pp. 28614–28626.
Carlson C. G., Roshek D. M. Adult dystrophic (mdx) endplates exhibit reduced quantal size and enhanced quantal variation. Eur. J. Physiol., 2001, vol. 442, pp. 369–375.
Anderson J. E. Myotube phospholipid synthesis and sarcolemmal ATPase activity in dystrophic (mdx) mouse muscle. Biochem. Cell Biol., 1991, vol. 69, pp. 835–841.
Dunn J. F., Burton K. A., Dauncey M. J. Ouabain sensitive Na+/K+-ATPase content is elevated in mdx mice: implications for the regulation of ions in dystrophic muscle. J. Neurol. Sci., 1995, vol. 133, pp. 11–15.
Canato M., DalMaschio M., Sbrana F., Raiteri R., Reggiani C., Vassanelli S., Megighian A. Mechanical and electrophysiological properties of the sarcolemma of muscle fibers in two murine models of muscle dystrophy: Col6a1−/− and mdx.
J. Biomed. Biotech.
, 2010.
https://doi.org/10.1155/2010/981945
Krivoi I. I. Toki koncevoj plastinki i nekotorye drugie harakteristiki nervno-myshechnogo sinapsa [End-plate currents and characteristics of the neuromuscular synapse]. Usp. Fiziol. Nauk [Progres in Physiological Sciences], 1989, vol. 20, no. 4, pp. 42–58. (In Russian)
Nagel A., Lehmann-Horn F., Engel A. G. Neuromuscular transmission in the mdx mouse. Muscle Nerve, 1990, vol. 13, no. 8, pp. 742–749.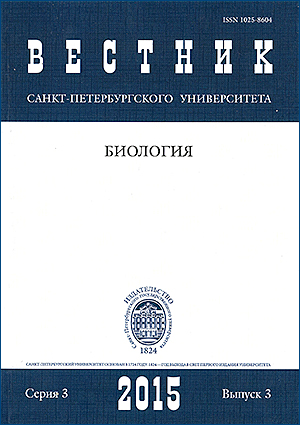 How to Cite
Timonina, N., Kravtsova, V., Mikhailova, E., Sokolova, A., Mikhailov, V., & Krivoi, I. (2015). Electrogenesis of end-plates of mdx mice diaphragm: effect of cell therapy. Biological Communications, (3), 66–74. https://doi.org/10.21638/spbu03.2015.306
Section
Full communications
Articles of Biological Communications are open access distributed under the terms of the License Agreement with Saint Petersburg State University, which permits to the authors unrestricted distribution and self-archiving free of charge.