Plant species diversity in urban areas of Northwest Siberia
Abstract
The flora of two towns and two settlements in the northern taiga and forest-tundra of Northwest Siberia (Russia) are considered. Urban species lists are limited (61–119 vascular plant species) and mainly consist of native species with a predominance of perennial herbs. Various urban functional zones (industrial, residential, recreational, vegetable patches) differ by species composition, and this difference increases in the course of city development. In the industrial zone, vegetation composition is closer to the native flora, because of the low number of adventive species. Maximal diversity is due to decorative plants, cultivars and southern weed distribution, and is typical to residential neighborhoods. Species diversity increases mainly because of woody plants introduction. Alien species are represented generally by a small number of individuals. The severe climate and poor soils limit their abilities to spread in the Far North. Urbanization forces the reduction of aboriginal biodiversity, but in northern areas where native species have the adaptive advantage, this effect is minimal. Changes in flora since 1995 were analyzed in the town of Novy Urengoy (Yamalo-Nenets Autonomous Okrug, Russia). Plant diversity increased by about 20 % in all functional zones, although some alien and natural species were not recorded in 2018.
Keywords:
urban environment, plant diversity, urban functional zones, urban vegetation, Arctic zone of Russian Federation
Downloads
Download data is not yet available.
References
Atlas of the Yamal-Nenets Autonomous District. 2004. Omsk. (In Russian)
Brandes, D. 1995. The flora of old town centers in Europe; pp. 49–58 in Sukopp, H. et al. (Eds.) Urban ecology as the basis of urban planning. Amsterdam.
Rozhdestvenskiy, J. F. 2000. About the possibility of green space in the Far North, the Urals and Western Siberia. Materials to knowledge of fauna and flora of the Yamal-Nenets Autonomous District (part II), Salekhard, pp. 70−74. (In Russian)
Sekretareva, N. A. 2004. Vascular plants of the Russian Arctic and adjacent territories. Moscow. (In Russian)
Sudnik-Wojcikowska, B. 1987. Flora miasta Warszawy i jej przemiany w ciągu XIX i XX wieku. Część I. Warszawa, pp. 3−242.
Sukopp, H. and Werner, P. 1983. Urban environment and vegetation; pp. 247−260 in Holzner, W., Werger, M .J. A., and Ikushima, I. (Eds.), Man's impact on vegetation, The Hague.
Sumina, O. I. 2013. Formation of vegetation on technogenic habitats of the Russian Far North. Saint-Petersburg. (In Russian)
Trotsenko, G. V. 1990. Synanthropization of flora of Labytnangi, in structure, productivity and dynamics of vegetation. Sverdlovsk, pp. 101−110. (In Russian)
Viltchek, G. E. and Kuznetsov, D. V. 1996. Flora of anthropogenic habitats in the vicinity of Novy Urengoy city; pp. 101−121 in Viltchek, G. E., Sumina, O. I., and Tishkov, A. A. (Eds.) Flora of anthropogenic habitats of the North, Moscow. (In Russian)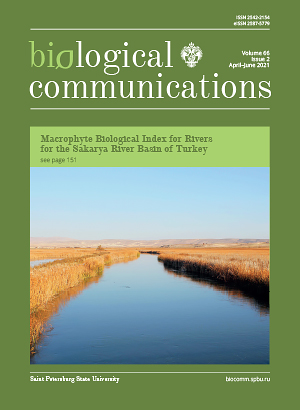 How to Cite
Koptseva, E., Sumina, O., Kirillov, P., Egorov, A., & Pechkin, A. (2021). Plant species diversity in urban areas of Northwest Siberia. Biological Communications, 66(2), 129–143. https://doi.org/10.21638/spbu03.2021.204
Section
Full communications
Articles of Biological Communications are open access distributed under the terms of the License Agreement with Saint Petersburg State University, which permits to the authors unrestricted distribution and self-archiving free of charge.