Toxic effects of mazut on early developmental stages of blenny Parablennius sanguinolentus
Irina Rudneva

A. O. Kovalevsky Institute of Biology of the Southern Seas, Russian Academy of Sciences, pr. Nakhimova, 2, Sevastopol, 299011, Crimea, Russian Federation

https://orcid.org/0000-0002-9623-9467
Abstract
Coastal marine waters are known as spawning sites of fish and invertebrate, which are highly sensitive to crude oil and its derivates in their early developmental stages. The aim of the present study was to investigate the effects of mazut at concentrations of 0.00001, 0.02, 0.1, and 0.2 ml/l on antioxidant enzyme activities in developmental embryos (stage V) of the Black Sea blenny Parablennius sanguinolentus. The biomarkers of oxidative stress — namely superoxide dismutase (SOD), catalase (CAT), peroxidase (PER) and glutathione reductase (GR) — were investigated. This revealed a non-uniform impact of mazut concentration on fish embryos. The correlations between enzyme activities and mazut concentrations were non-linear, and tested antioxidants fluctuated independently from one another. The obtained results can be applied to the development of oil toxicity tests for assessment of water quality and in conservation biology.
Keywords:
Black Sea, mazut, fish eggs, blenny Parablennius sanguinolentus, antioxidant enzymes, oil pollution, biomarkers, oxidative stress, monitoring, risk assessment
Downloads
Download data is not yet available.
References
Dechnik, T. V. 1973. Black Sea Ichthyoplankton. Naukova Dumka, Kiev. (In Russian)
Halafian, A. A. 2008. Statistica. Binom Publ, Moscow. (In Russian)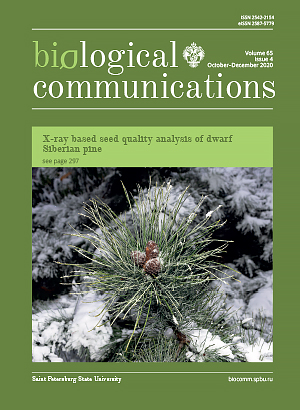 How to Cite
Rudneva, I. (2020). Toxic effects of mazut on early developmental stages of blenny <em>Parablennius sanguinolentus</em&gt;. Biological Communications, 65(4), 331–336. https://doi.org/10.21638/spbu03.2020.406
Section
Brief communications
Articles of Biological Communications are open access distributed under the terms of the License Agreement with Saint Petersburg State University, which permits to the authors unrestricted distribution and self-archiving free of charge.