A hierarchy of compass systems in migratory birds
Alexander Pakhomov

Biological Station Rybachy, Zoological Institute of the Russian Academy of Sciences, ul. Pobedy, 32, Rybachy, 238535, Kaliningrad Region, Russian Federation

https://orcid.org/0000-0001-8092-4817

Nikita Chernetsov

Biological Station Rybachy, Zoological Institute of the Russian Academy of Sciences, ul. Pobedy, 32, Rybachy, 238535, Kaliningrad Region, Russian Federation; Department of Vertebrate Zoology, Faculty of Biology, Saint Petersburg State University, Universitetskaya nab., 7–9, Saint Petersburg, 199034, Russian Federation

https://orcid.org/0000-0001-7299-6829
Abstract
Migratory birds use several different sources of orientation information. They have at least three compass systems based on different cues: the sun and polarized light, the stars and their constellations, and the geomagnetic field. The concurrent information obtained from these three compasses is redundant, therefore the compasses need to have a hierarchy and must be calibrated relative to each other. One of the compasses should dominate the others, or some orientation cue should be used to calibrate the remaining compass systems. Results of experiments on a variety of songbird species demonstrate that while astronomical cues calibrate the magnetic compass during the pre-migratory period, strategies used during the migratory period are more diverse. In the present review, we analyze the results of all crucial cue-conflict studies, mostly performed in nocturnal songbird migrants; we also try to understand why some migratory species calibrate their magnetic compass on sunset cues while others use the geomagnetic field or stars as a primary cue source, and we examine why the previous hypothesis could not explain the findings of all cue-conflict experiments.
Keywords:
hierarchy, compass systems, compass calibration, magnetic compass, stellar compass, sun compass, orientation, migratory birds, migration
Downloads
Download data is not yet available.
References
Pakhomov, A., Anashina, A., and Chernetsov, N. 2019. No evidence for compass calibration in European songbird migrants during both migratory seasons. Abstracts of 12th European Ornithologists' Union Congress (EOU 2019), 26–30 August 2019, Cluj Napoca, Romania, p. 112.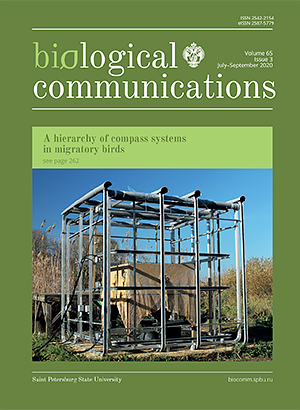 How to Cite
Pakhomov, A., & Chernetsov, N. (2020). A hierarchy of compass systems in migratory birds. Biological Communications, 65(3), 262–276. https://doi.org/10.21638/spbu03.2020.306
Section
Review communications
Articles of Biological Communications are open access distributed under the terms of the License Agreement with Saint Petersburg State University, which permits to the authors unrestricted distribution and self-archiving free of charge.