From past to future: suppressor mutations in yeast genes encoding translation termination factors
Abstract
The study of the SUP45 and SUP35 genes of yeast Saccharomyces cerevisiae in the laboratory of Physiological Genetics of St. Petersburg State University began in 1964 when the first omnipotent nonsense suppressor mutations were obtained. During the following 55 years, a lot of information about these genes has been gained through the research efforts of various laboratories. Now we know that SUP45 and SUP35 encode translation termination factors eRF1 and eRF3, respectively. Both genes are essential, and sup45 and sup35 mutations lead not only to impaired translation but also to multiple pleiotropic effects. The aim of this review is to summarize known data about suppressor mutations in SUP45 or SUP35 genes.
Keywords:
translation termination, suppression, SUP45, SUP35, eRF1, eRF3, nonsense mutations, missense mutations, [PSI ] prion, S. cerevisiae
Downloads
Download data is not yet available.
References
Inge-Vechtomov, S. G. and Andrianova, V. M. 1972. New type of supersuppressors in yeast. Molecular Mechanisms of Genetic Processes, Nauka, Moskow. pp. 189–195.
Sherman, F. and Stewart, J. W. 1982. The Molecular Biology of the Yeast Saccharomyces: Metabolism and Gene Expression. Cold Spring Harbor Laboratory, Cold Spring Harbor, New York.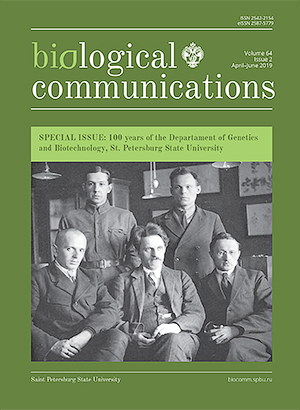 How to Cite
Trubitsina, N., Zemlyanko, O., Moskalenko, S., & Zhouravleva, G. (2019). From past to future: suppressor mutations in yeast genes encoding translation termination factors. Biological Communications, 64(2), 89–109. https://doi.org/10.21638/spbu03.2019.202
Section
Review communications
Articles of Biological Communications are open access distributed under the terms of the License Agreement with Saint Petersburg State University, which permits to the authors unrestricted distribution and self-archiving free of charge.