Genotyping pathogenic strains of genus Xanthomonas causing bacterioses in a number of plants by DDSL technique
Alexander Lazarev

Federal State Budget Scientific Institution "All-Russian Institute of Plant Protection", Shosse Podbelskogo, 3, Saint Petersburg, 196608, Russian Federation

https://orcid.org/0000-0002-4282-0141

Valery Terletskiy

Federal State Budget Scientific Institution "All-Russian Institute of Plant Protection", Shosse Podbelskogo, 3, Saint Petersburg, 196608, Russian Federation; Puskin Leningrad State University, Peterburgskoye Shosse, 10, Saint Petersburg, 196605, Russian Federation

https://orcid.org/0000-0003-4043-3823

Vladimir Chebotar

Federal State Budget Scientific Institution "All-Russian Research Institute of Agricultural Microbiology", Shosse Podbelskogo, 3, Saint Petersburg, 196608, Russian Federation

https://orcid.org/0000-0001-9762-989X
Abstract
In the genus Xanthomonas, specialists consider a significant number of species and varieties (pathovars) of phytopathogenic bacteria that infect many agricultural and ornamental plants (about 400 species), which leads to serious economic losses. For the timely detection of these pathogens, accurate diagnosis is necessary, allowing correct and prompt identification. Molecular genetic methods are able to identify populations of Xanthomonas strains with a fairly complete characterization of their hereditary material. The proposed method of genotyping — double digest and selective label (DDSL) — is based on the use of two restriction endonucleases for the separation of bacterial genomic DNA. The DNA polymerase (Taq) present in the reaction mixture along with biotinylated deoxycytosine triphosphate (Bio–dCTP) allows for the visualization of DNA fragments. The tag only labels DNA fragments that have 3'-recessed ends formed by the first enzyme (BcuI). The second restriction endonuclease (Eco147I) produces blunt ends that are unable to incorporate the label. As a result, in the DDSL reaction, 20–50 clearly distinguishable DNA fragments are visualized on the filter. The number and distribution of fragments are characteristic for each bacterial strain of the genus Xanthomonas. Genotyping these microorganisms makes it possible to identify the specific profile of each strain, i.e., assign it a sort of "bar code" for individual specification. The strains of bacteria of the genus Xanthomonas, obtained from different species (tomato, radish, sorghum) are genetically separated from each other, showing a specific pattern in terms of the distribution of DNA fragments, despite the common geographical origin. A comparatively rare case of the identity of strains, despite their geographical and temporal unrelatedness and different cultures, has been recorded.
Keywords:
Xanthomonas, strain, genotyping, double digest and selective label (DDSL), restriction endonucleases
Downloads
Download data is not yet available.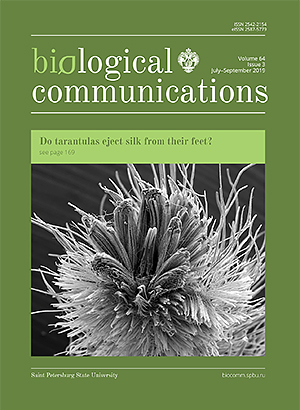 How to Cite
Lazarev, A., Terletskiy, V., & Chebotar, V. (2019). Genotyping pathogenic strains of genus <em>Xanthomonas</em&gt; causing bacterioses in a number of plants by DDSL technique. Biological Communications, 64(3), 183–188. https://doi.org/10.21638/spbu03.2019.302
Section
Full communications
Articles of Biological Communications are open access distributed under the terms of the License Agreement with Saint Petersburg State University, which permits to the authors unrestricted distribution and self-archiving free of charge.