The effects of disturbance in neurumediator systems on lipid peroxidation and superoxide dismutase activity in rat brain cortex, hippocampus and striatum
Leonid Libin

Saint Petersburg State University, 7–9, Universitetskaya nab., Saint Petersburg, 199034, Russian Federation

Sergei Dagaev

Institute of Toxicology, 1, Bekhtereva Str., Saint Petersburg, 192019, Russian Federation

Larissa Kubarskaja

Institute of Toxicology, 1, Bekhtereva Str., Saint Petersburg, 192019, Russian Federation

Natalia Eschenko

Saint Petersburg State University, 7–9, Universitetskaya nab., Saint Petersburg, 199034, Russian Federation
Abstract
The article reveals the activation of lipid peroxidation in rat brain structures (especially in striatum) after injection of selective D2 antogonist haloperidol (0,32 mg/kg, i/p), as well as after injection of haloperidol and ketamine (0,13 mg/kg, i/p) — the antagonist of NMDA-glutamic receptors. The experiments with haloperidol show that the superoxide dismutase activity was higher in brain structures of the rats with motor disturbances (katalepsy) in comparison with the rats without katalepsy.
Keywords:
haloperidol, ketamine, motor disturbances, katalepsy, lipid peroxidation, superoxide dismutase, rat brain cortex, hippocampus, striatum
Downloads
Download data is not yet available.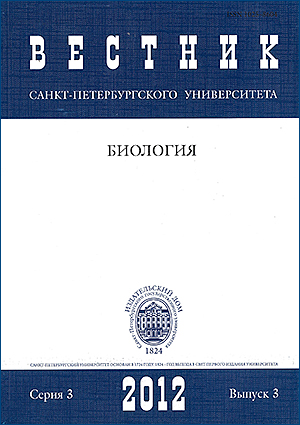 How to Cite
Libin, L., Dagaev, S., Kubarskaja, L., & Eschenko, N. (2012). The effects of disturbance in neurumediator systems on lipid peroxidation and superoxide dismutase activity in rat brain cortex, hippocampus and striatum. Biological Communications, (3), 98–105. Retrieved from https://biocomm.spbu.ru/article/view/3360
Section
Full communications
Articles of Biological Communications are open access distributed under the terms of the License Agreement with Saint Petersburg State University, which permits to the authors unrestricted distribution and self-archiving free of charge.