The prolonged effects of tetrapeptide-amide on dopamine and serotonin metabolism in brain structures
Elizaveta Dovedova

Scientific Centre of Neurology, RAMS, Russian Federation

Natalia Eschenko

Saint Petersburg State University, 7–9, Universitetskaya nab., Saint Petersburg, 199034, Russian Federation
Abstract
A single injection of tetrapeptide-amide d-Tyr-Ala-Gly-Phe-NH2 (500 mkg/kg, i/p) to rats or rabbits caused an increase of MAO A activity, but a decrease of MAO B activity, especially in nucleus caudatum in comparison with brain cortex. The changes of MAO A and B activities, of tryptophan- and tyrosine hydroxylases activities, and the changes of serotonin concentration were found within 30 min as well as 3 days after a single injection of tetrapeptide-amide.
Keywords:
tetrapeptide-amide, DSIP, dopamine, serotonin, monoaminoxidase A and B, tryptophan hydroxylase, tyrosine hydroxylase, brain cortex, nucleus caudatum
Downloads
Download data is not yet available.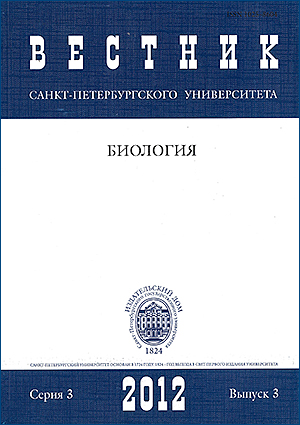 How to Cite
Dovedova, E., & Eschenko, N. (2012). The prolonged effects of tetrapeptide-amide on dopamine and serotonin metabolism in brain structures. Biological Communications, (3), 90–97. Retrieved from https://biocomm.spbu.ru/article/view/3359
Section
Full communications
Articles of Biological Communications are open access distributed under the terms of the License Agreement with Saint Petersburg State University, which permits to the authors unrestricted distribution and self-archiving free of charge.