Myriophyllum sibiricum (Haloragaceae) in Vologda region
Alexander Bobrov

Institute for Biology of Inland Waters named after I. D. Papanin RAS, 109, Borok, Nekouz District, Yaroslavl Region, 152742, Russian Federation

Dmitriy Philippov

Institute for Biology of Inland Waters named after I. D. Papanin RAS, 109, Borok, Nekouz District, Yaroslavl Region, 152742, Russian Federation
Abstract
The article focuses on Myriophyllum sibiricum (Haloragaceae), a little-known species in Vologda region. It presents main distinguishing features of M. sibiricum, distribution of the species in the area, and specifics of geography and ecology of watermilfoils in the region. It shows that M. sibiricum is not rare in stagnant and weakly flowing waters of Vologda region. In more boggy habitats M. verticillatum occur, while M. spicatum prevail in the rivers.
Keywords:
Myriophyllum sibiricum, waterbodies, watercourses, Vologda region
Downloads
Download data is not yet available.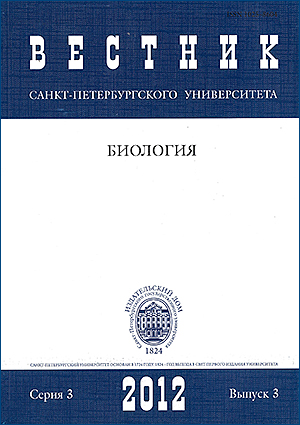 How to Cite
Bobrov, A., & Philippov, D. (2012). <em>Myriophyllum sibiricum</em&gt; (Haloragaceae) in Vologda region. Biological Communications, (3), 25–30. Retrieved from https://biocomm.spbu.ru/article/view/3351
Section
Full communications
Articles of Biological Communications are open access distributed under the terms of the License Agreement with Saint Petersburg State University, which permits to the authors unrestricted distribution and self-archiving free of charge.