A study of steroid cells in gonads of salmon fry after hormonal treatment
Marina Mosyagina

St. Petersburg State Academy of Veterinary Medicine, 5, Chernigovskaya ul., St. Petersburg, 196084, Russian Federation

Oleg Zelennikov

Saint Petersburg State University, 7–9, Universitetskaya nab., Saint Petersburg, 199034, Russian Federation
Abstract
The state of steroid-producing cells (SPCs) in fry pink and coho salmon was studied after treatment with sex steroid hormones in different doses and at different stages of gonadal sex differentiation. Thus, SPCs activity increased in gonads in test fish whose condition of gonads at the moment of analysis was different from the condition of gonads in control fish. High activity of SPCs was observed irrespective of whether hormonal treatment suppressed or stimulated development of sex cells fund and also irrespective of the time of SPCs investigation (during the hormonal treatment of test fish or a long period of time afterwards).
Keywords:
hormonal treatment, steroid-producing cells, pink salmon, coho salmon
Downloads
Download data is not yet available.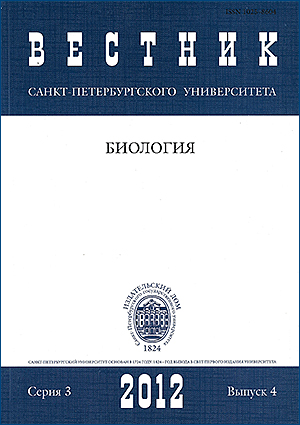 How to Cite
Mosyagina, M., & Zelennikov, O. (2012). A study of steroid cells in gonads of salmon fry after hormonal treatment. Biological Communications, (4), 3–19. Retrieved from https://biocomm.spbu.ru/article/view/3195
Section
Full communications
Articles of Biological Communications are open access distributed under the terms of the License Agreement with Saint Petersburg State University, which permits to the authors unrestricted distribution and self-archiving free of charge.