Methodological bases of classification of megalopolis soils on the example of St. Petersburg
Boris Aparin

Saint Petersburg State University, 7–9, Universitetskaya nab., Saint Petersburg, 199034, Russian Federation

https://orcid.org/0000-0001-6012-0168

Elena Sukhacheva

Saint Petersburg State University, 7–9, Universitetskaya nab., Saint Petersburg, 199034, Russian Federation

https://orcid.org/0000-0003-3612-6265
Abstract
In developing methodological bases of classification of urban soils the properties of soil as a special biogeomembrane were considered. It is suggested to enter classification of soils of megalopolises into modern «Classification and diagnostics of soils of Russia» (2004). At the heart of classification it is suggested to give the morphological-genetic analysis of a profile. In considering soil as a biogeomembrane the degree of genetic linkage between layers, their compliance to profile-forming processes, characteristic for soils of this natural zone, an origin and structure of the superficial horizon is considered. Proceeding from the importance of soil function performance it is proposed to put the capacity of humuc or organic horizon at a higher taxonomical level. On the basis of analysing urban soil structure features the department of Introduced soils is established. The department merges soils in which the introduced organomineral or organic horizon (RY, RU or RT) with power less than 40 cm lies on a mineral substrate D, formed in situ or introduced from the outside.
Keywords:
soils of megalopolises, biogeomembrane, classification, functions of soils, the introduced horizon
Downloads
Download data is not yet available.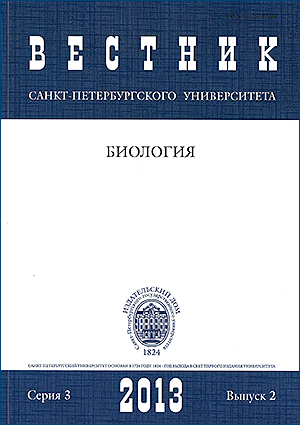 How to Cite
Aparin, B., & Sukhacheva, E. (2013). Methodological bases of classification of megalopolis soils on the example of St. Petersburg. Biological Communications, (2), 115–122. Retrieved from https://biocomm.spbu.ru/article/view/2647
Section
Full communications
Articles of Biological Communications are open access distributed under the terms of the License Agreement with Saint Petersburg State University, which permits to the authors unrestricted distribution and self-archiving free of charge.