Identification of the Leccinum genus species forming fruit bodies in the microecosystems of the riverbed bank of the river Kremenka by the method of rDNA sites restriction analysis
Dmitry Ivanov

Saint Petersburg State University, 7–9, Universitetskaya nab., Saint Petersburg, 199034, Russian Federation; Saint Petersburg State University of Civil Aviation, Saint Petersburg, Russian Federation
Abstract
The article focuses on the following species of Leccinum genus: L. schistophilum, L. scabrum, L. versipelle, L. holopus and L. variicolor, that have been revealed in microecosystems of floodland of the river Kremenka (Leningrad region, Gatchinsky area), which are different conditions from surrounding wood and marsh ecosystems in terms of soil. The species were identified by carrying out an analysis of restriction fragments lengths polymorphism of rDNA ITS1-5,8S-ITS2 and IGS1 sites. L. schistophilum, L. scabrum and L. versipelle are related to birch in microecosystems on the border between a meadow and a fenny site of the floodland, on alluvial quartz breeds, L. holopus and L. variicolor are related to a fur-tree and an alder in microecosystems of fenny sedgy floodland. In the floodland of the river Kremenka the L. schistophilum, which was earlier found in ecosystems of an anthropogenous origin — on roadsides of roads embanked by limy rubble, is also identified. In addition, in plant community with domination of grey alder L. variicolor, usually related to suburbs of raised bogs, has been identified. Fruit bodies which have not shown homology on the size of amplified fragments and the fragments formed after influence of restriction, with the electrophores spectra of nine species in East-European part of Russia are found out. To identify them, it is planned to use a method to reveal their relationship with known species by sequences. Refs 11. Figs 4. Tables 1.
Keywords:
Leccinum, ITS1-5,8S-ITS2 and IGS1 rDNA, microecosystems of the riverbed bank
Downloads
Download data is not yet available.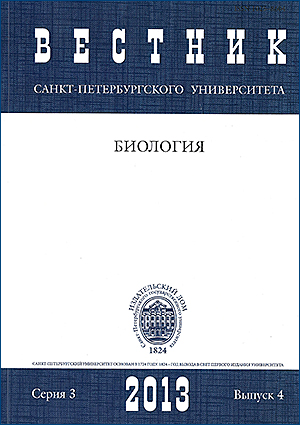 How to Cite
Ivanov, D. (2013). Identification of the <em>Leccinum</em&gt; genus species forming fruit bodies in the microecosystems of the riverbed bank of the river Kremenka by the method of rDNA sites restriction analysis. Biological Communications, (4), 58–64. Retrieved from https://biocomm.spbu.ru/article/view/1325
Section
Full communications
Articles of Biological Communications are open access distributed under the terms of the License Agreement with Saint Petersburg State University, which permits to the authors unrestricted distribution and self-archiving free of charge.