Mechanical transformations of living cavitary bodies
Valentin Borkhvardt

Department of Vertebrate Zoology, Faculty of Biology, Saint Petersburg State University, Universitetskaya nab., 7–9, Saint Petersburg, 199034, Russian Federation

https://orcid.org/0000-0001-6480-9077
Abstract
All living organisms and many of their parts are organised in an essentially similar manner: they are closed cavitary bodies consisting of 1) the inner mass and 2) a relatively thin sheath enclosing it. This organisation allows living bodies to change shape by employing hydrostatic forces. These forces are generally recognised to govern changes of shape in walled cells. To explain transformations of other organisms, other factors are usually sought. In this paper, the hydrostatic mechanism is represented as a universal mode of shape formation. It acts in all kinds of organisms, determining the course of diverse processes such as development of cell outgrowths, limb buds, gut derivatives and sense organs; endocytosis; cell division; branching of capillaries; gastrulation; cell locomotion; muscle contraction etc.
Keywords:
organisms, organs, cells, morphogenesis, evagination, invagination, cell division, cell locomotion, muscle contraction, hydromechanical model
Downloads
Download data is not yet available.
References
This Theoretical Communication paper contains exceptionally large number of References (467); hence the full list of references can not be correctly displayed on this page. Please, see PDF file of the paper for references.
The recommended number of references depending on the article type is given in the
Authors Guidelines
.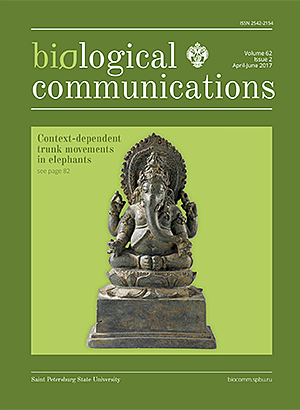 How to Cite
Borkhvardt, V. (2017). Mechanical transformations of living cavitary bodies. Biological Communications, 62(2), 103–155. https://doi.org/10.21638/11701/spbu03.2017.206
Section
Theoretical communications
Articles of Biological Communications are open access distributed under the terms of the License Agreement with Saint Petersburg State University, which permits to the authors unrestricted distribution and self-archiving free of charge.