Some aspects of the biology of the red kid king crab in the coastal Barents Sea
Alexander Dvoretsky

Murmansk Marine Biological Institute, Kola Scientific Centre of Russian Academy of Sciences, ul. Vladimirskaya, 17, Murmansk, 183010, Russian Federation

Vladimir Dvoretsky

Murmansk Marine Biological Institute, Kola Scientific Centre of Russian Academy of Sciences, ul. Vladimirskaya, 17, Murmansk, 183010, Russian Federation
Abstract
The red king crab is an important commercial crustacean species whose harvesting in the Barents Sea started in 2004. This study presents the results of the investigations of some aspects of biology of red king crabs collected during a diving survey in Dalnezelenetskaya Bay (Eastern Murman, the Barents Sea) in the summer period of 2010. Estimation of abundance of red king crab stock was performed by using a square method based on a transect length, time and depth of each diving set and nature of local bottom biocenoses. A total of 133 specimens of red king crab were collected in Dalnezelenetskaya Bay. Male crabs dominated among immature animals; an opposite pattern was found for mature specimens. For mature crabs, we calculated two relations: carapace width to carapace length and merus length to carapace width. These calculated indices in females were significantly lower than in males. The females with eggs at the stage "violet egg" were the most abundant (86,0 %) among egg-bearing females. The crabs with "new shells" (second molting stage) were a dominating group and their proportion was significantly higher than in 2009. Total level of limb autotomy in red king crabs was as high as 65,4 %. Frequency of limb injuries was similar in mature and immature crabs. The right claw was autotomised more frequently than other limbs. The lowest crab occurrence was found in the oozy sand bottoms. Large individuals prevailed on gravel with impurity of cockleshells and on boulders, being frequently hidden under stones. Juveniles prevailed on rocky breed exits or vertical rocks. Thrickets of Laminaria, communities of starfishes and Litotamnion were the most preferred to crab biotopes. Total stock of the red king crab in Dalnezelenetskaya Bay in July 2010 was calculated to be 9770 ind. This level was the highest point during the 5-year period (2006–2010). Both total crab number and biomass was significantly higher in 2010 in comparison to 2009. Refs 21. Figs 3. Таbles 2.
Keywords:
red king crab, Barents Sea, Dalnezelenetskaya Bay, autotomy, stock
Downloads
Download data is not yet available.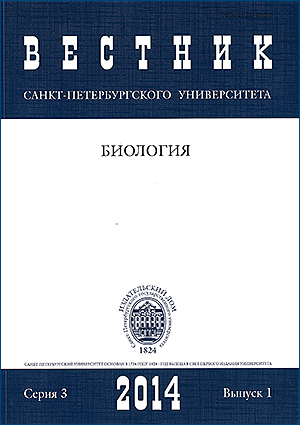 How to Cite
Dvoretsky, A., & Dvoretsky, V. (2014). Some aspects of the biology of the red kid king crab in the coastal Barents Sea. Biological Communications, (1), 5–13. Retrieved from https://biocomm.spbu.ru/article/view/1143
Section
Full communications
Articles of Biological Communications are open access distributed under the terms of the License Agreement with Saint Petersburg State University, which permits to the authors unrestricted distribution and self-archiving free of charge.