Activity of B-type monoamine oxidase in the pineal gland of rats of different ages
Alexej Razygraev

D. O. Ott Research Institute of Obstetrics and Gynecology, Mendeleevskaya liniya, 3, Saint Petersburg, 199034, Russian Federation

Kseniya Volovik

Saint Petersburg State University, 7–9, Universitetskaya nab., Saint Petersburg, 199034, Russian Federation

Kseniya Panshina

Saint Petersburg State University, 7–9, Universitetskaya nab., Saint Petersburg, 199034, Russian Federation
Abstract
B-type monoamine oxidase (MAO B) activity in the pineal gland of middle-aged and aging male Wistar rats (6–8 and 14–15 months old, respectively) was determined using benzylamine as a substrate and selegiline as a selective inhibitor. The rate of conversion of benzylamine to benzaldehyde was measured spectrophotometrically at 250 nm. The initial concentration of benzylamine was 3.7 mM, which is the saturation concentration for the rat pineal gland MAO B. Activity of the enzyme in the pineal gland of aging rats was found to be elevated when compared with that of middle-aged rats (p less than 0.02, the Wilcoxon-Mann-Whitney test). The increase of MAO B activity accompanied by the decrease of glutathione peroxidase activity, which was found in the previous study, may promote the increase of oxidative damage and, as a consequence, the pineal gland functional involution. Refs 18. Figs 1.
Keywords:
amine oxidase, epiphysis, benzylamine, rats, aging
Downloads
Download data is not yet available.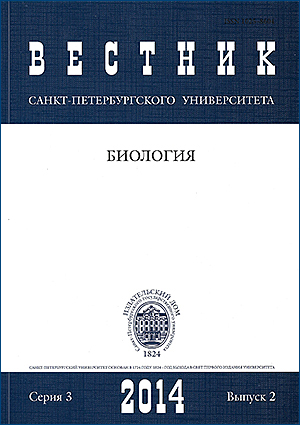 How to Cite
Razygraev, A., Volovik, K., & Panshina, K. (2014). Activity of B-type monoamine oxidase in the pineal gland of rats of different ages. Biological Communications, (2), 77–81. Retrieved from https://biocomm.spbu.ru/article/view/1137
Section
Full communications
Articles of Biological Communications are open access distributed under the terms of the License Agreement with Saint Petersburg State University, which permits to the authors unrestricted distribution and self-archiving free of charge.