Anatomical aspects of Lolium perenne L. heteroblasty
Igor Tikhankov

Dnipropetrovsk State University, 13, Naukova-street, Dnipropetrovsk, 49050, Ukraine
Abstract
The turfgrass heteroblasty by the example of Lolium perenne L. has been investigated. It was found that adult leaves defer each from other very strongly in a range of anatomy and morphology parameters. First of all these are the square of cross sections, square and number of vascular bunds, square of mesophyll and intercellular spaces, number of chloroplasts. The sort peculiarity in these parameters has been investigated so. It was concluded that heteroblasty is genetically determined during leaf primordia formation. Some anatomy parameters, which are the most suitable for the heteroblasty estimation have been found. Refs 34. Figs 5. Tables 6.
Keywords:
heteroblasty, turfgrass, cross sections, vascular bunds, bundle sheath, mesophyll, intercellular spaces, chloroplasts, leaf primordia, phloem, xylem
Downloads
Download data is not yet available.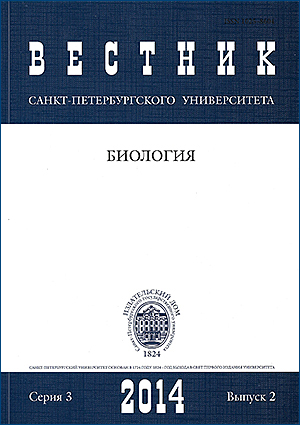 How to Cite
Tikhankov, I. (2014). Anatomical aspects of <em>Lolium perenne</em&gt; L. heteroblasty. Biological Communications, (2), 49–65. Retrieved from https://biocomm.spbu.ru/article/view/1135
Section
Full communications
Articles of Biological Communications are open access distributed under the terms of the License Agreement with Saint Petersburg State University, which permits to the authors unrestricted distribution and self-archiving free of charge.