Estimation of structure and volume of the reserve fund of oocytes in fish
Konstantin Fedorov

Saint Petersburg State University, Oranienbaumskoe chaussee, 2, Petergof, 198504, Russian Federation

Yuri Kuznetsov

Saint Petersburg State University, Oranienbaumskoe chaussee, 2, Petergof, 198504, Russian Federation
Abstract
Three different methods of determining the structure of the reserve fund of oocytes in ovaries of juvenile rainbow trout have been used for the first time. For this purpose the calculation of all previtellogenic oocytes was accomplished on series of microscopic sections using three methods described in the text. The results obtained are comparable. We recommended the more simple and less time-consuming of the two for calculation of absolute and relative quantity of oocytes of different generations in fish ovaries. The proposed method produces adequately accurate date applicable for statistical analysis and comparable with the results of other researchers. The data concerning relative quantity of different groups of oocytes and quantity of oldest oocyte generations in the ovary batch permit to determine the structure and the total volume of oocyte reserve fund in both gonads. Refs 30. Figs 2. Tables 1.
Keywords:
fishes, oocytes, reserve fund, methods of calculation
Downloads
Download data is not yet available.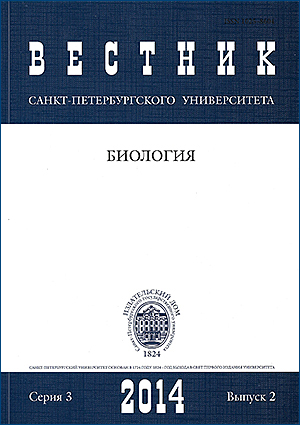 How to Cite
Fedorov, K., & Kuznetsov, Y. (2014). Estimation of structure and volume of the reserve fund of oocytes in fish. Biological Communications, (2), 20–29. Retrieved from https://biocomm.spbu.ru/article/view/1132
Section
Full communications
Articles of Biological Communications are open access distributed under the terms of the License Agreement with Saint Petersburg State University, which permits to the authors unrestricted distribution and self-archiving free of charge.