Species of the genus Balantidium from fish andamphibians: morphometric data
Olga Kornilova

Herzen State Pedagogical University of Russia, 48, nab. r. Moyki, Saint Petersburg, 191186, Russian Federation

Lyudmila Chistiakova

Saint Petersburg State University, Centre of Core Facilities «Culture Collection of Microorganisms (CCM)», Universitetskaya nab., 7–9, Saint Petersburg, 199034, Russian Federation

Ekaterina Yagunova

Saint Petersburg Electrotechnical University «LETI», ul. Professora Popova, 5, St. Petersburg, 197376, Russian Federation
Abstract
The genus Balantidium includes about eighty species of ciliates parasitical in various vertebrates and invertebrates. These ciliates were found in the guts of different freshwater and saltwater fishes, amphibians (Anura and Caudata), birds and mammals, as well as in the digestive path of some insects and mollusks. Species of the genus Balantidium were described by the results of the light-optical observations, and now determining of these species is based primarily on morphometric data. We summarized published morphometric data of 42 species of the genus Balantidium — fish and amphibian endobionts. Several groups of Balantidium species were found. All species in the group are similar to each other for all parameters specified in the original description. It is shown that in a differentiation of species of the genus Balantidium it is preferable to use following combination of features: the cell size and the size of macronucleus; vestibulum length to cell length ratio; the number of dorsal and ventral kinets. Refs 30. Figs 1. Tables 4.
Keywords:
Balantidium, morphometric data, biodiversity
Downloads
Download data is not yet available.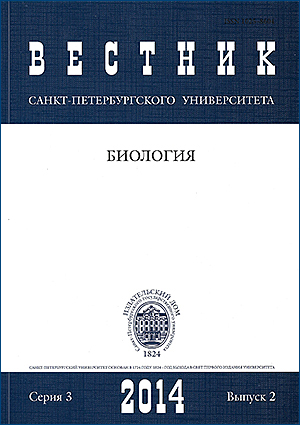 How to Cite
Kornilova, O., Chistiakova, L., & Yagunova, E. (2014). Species of the genus <em>Balantidium</em&gt; from fish andamphibians: morphometric data. Biological Communications, (2), 5–19. Retrieved from https://biocomm.spbu.ru/article/view/1131
Section
Full communications
Articles of Biological Communications are open access distributed under the terms of the License Agreement with Saint Petersburg State University, which permits to the authors unrestricted distribution and self-archiving free of charge.