Echinoderms as model objects for study of regeneration mechanisms
Igor Dolmatov

A. V. Zhirmunsky Institute of Marine Biology FEB of the Russian Academy of Sciences, 17, ul. Palchevskogo, Vladivostok, 690041, Russian Federaion; Far Eastern Federal University, 8, ul. Sukhanova, Vladivostok, 690950, Russian Federation

Nadezhda Bobrovskaya

A. V. Zhirmunsky Institute of Marine Biology FEB of the Russian Academy of Sciences, 17, ul. Palchevskogo, Vladivostok, 690041, Russian Federaion

Alexandr Girich

A. V. Zhirmunsky Institute of Marine Biology FEB of the Russian Academy of Sciences, 17, ul. Palchevskogo, Vladivostok, 690041, Russian Federaion
Abstract
Echinoderms are convenient model objects for study of regeneration mechanisms. In terms of phylogeny, echinoderms are deuterostomes and therefore have a near common ancestor with vertebrates. Echinoderms can regenerate small body appendages and all internal organs, including nerve system and gonads. Moreover, these animals can regenerate large body regions, like arms or even the whole body after cut in two halves. Good regenerative capacities of echinoderms are the results of mechanisms of dedifferentiation and transdifferentiation but not stem cells. The basis of regeneration of the animals is epithelial morphogenesis. Data cited about cellular mechanisms of regeneration and transcriptome analysis for three species which are most convenient and interesting objects. These are holothurians Eupentacta fraudatrix and Cladolabes schmeltzii, and sea lily Himerometra robustipinna. It was shown that gene families TGF-β, Wnt, Нох, and numerous transcription factors are activated during regeneration in E. fraudatrix and H. robustipinna. Extracellular matrix remodeling during regeneration and fission in holothurians occurred by participation of matrix metalloproteinases, their inhibitors (TIMP), and lysyl oxidase (Lox). Refs 90. Figs 5.
Keywords:
echinoderms, regeneration, holothurians, sea lilies, transdifferentiation
Downloads
Download data is not yet available.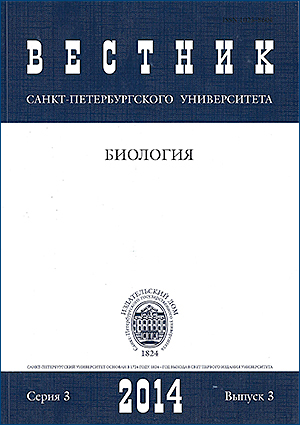 How to Cite
Dolmatov, I., Bobrovskaya, N., & Girich, A. (2014). Echinoderms as model objects for study of regeneration mechanisms. Biological Communications, (3), 96–112. Retrieved from https://biocomm.spbu.ru/article/view/1076
Section
Full communications
Articles of Biological Communications are open access distributed under the terms of the License Agreement with Saint Petersburg State University, which permits to the authors unrestricted distribution and self-archiving free of charge.