Postnatal development of functionally specialized pyramidal neurons of rat's sensomotor cortex
Nikolai Kostin

Saint Petersburg State University, 7–9, Universitetskaya nab., Saint Petersburg, 199034, Russian Federation

Pavel Zykin

Saint Petersburg State University, 7–9, Universitetskaya nab., Saint Petersburg, 199034, Russian Federation

Alexey Baskakov

Saint Petersburg State University, 7–9, Universitetskaya nab., Saint Petersburg, 199034, Russian Federation

Elena Krasnoshchekova

Saint Petersburg State University, 7–9, Universitetskaya nab., Saint Petersburg, 199034, Russian Federation
Abstract
Early stages of rat's postnatal sensomotor cortex development were studied. Morphometric analysis of the cortex stratification by distance from pial surface and cell size at the age of 10 postnatal days (PD) revealed complex of neurons from layers II–III, layer V and VI. Adult six-layers stratification was seen only after 20th PD. Immunohistochemistry against neuron specific protein MAP2 showed following development dynamic: at 5th PD positive neurons were seen only in layers V and VI; from 10th PD positive neurons start to appear in layers II and III. Immunohistochemistry against neurofilament protein N200, deemed as marker of corticofugal neurons, showed different dynamic: starting from 10th PD positive neurons are found only in the layer V. Our results lead to a conclusion that corticofugal neurons differentiating ahead of cortico-cortical neurons of upper cortex layers. Refs 18. Figs 3.
Keywords:
rat's brain, neocortex, early ontogenesis, pyramidal neurons, immunohistochemistry, cortico-cortical and corticofugal tracts
Downloads
Download data is not yet available.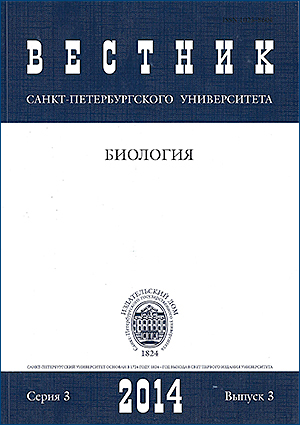 How to Cite
Kostin, N., Zykin, P., Baskakov, A., & Krasnoshchekova, E. (2014). Postnatal development of functionally specialized pyramidal neurons of rat's sensomotor cortex. Biological Communications, (3), 84–95. Retrieved from https://biocomm.spbu.ru/article/view/1075
Section
Full communications
Articles of Biological Communications are open access distributed under the terms of the License Agreement with Saint Petersburg State University, which permits to the authors unrestricted distribution and self-archiving free of charge.