Changing the DNA methylation of repetitive sequences and single-copy genes in cancer and other human diseases
Igor Kabanov

Saint Petersburg State University, 7–9, Universitetskaya nab., Saint Petersburg, 199034, Russian Federation

Ludmila Tishchenko

Saint Petersburg State University, 7–9, Universitetskaya nab., Saint Petersburg, 199034, Russian Federation
Abstract
The vertebrate DNA is covalently modified by cytosine methylation in dinucleotide sequence 5'-CpG-3' (wherein p — phosphate). According to recent reports, the DNA of mammalian somatic tissues is methylated in 70 % of all sites CpG. The highly methylated sequences include satellite DNA, transposable elements, intergenic DNA and genes exons. However, the vertebrate genome contains CpG-islands, which methylation level is much lower than in the whole genome. It is now established that CpG-islands are located in the promoter region and spread over the first exon of 50% of all genes. DNA methylation is a stable epigenetic modification that changes the pattern of gene expression. However, the pattern of methylation may be changed during the individual life. These changes are often associated with any pathological process, such as oncogenic transformation, cell aging or hereditary diseases. Present review considers the changes in genomic DNA methylation profile at various pathological conditions, mainly at the tumor diseases. The review gives examples of simultaneous changes in DNA methylation patterns of repetitive sequences and single-copy genes. It is noted that the disturbances in DNA methylation associated with tumor progression are connected mainly with hypomethylation of DNA repeats, promoter hypomethylation of cellular oncogenes, hypermethylation of tumor suppressor genes, mutation due to deamination of DNA. Refs 106. Tables 2.
Keywords:
DNA methylation, transposable elements, oncogenes, tumor suppressor genes
Downloads
Download data is not yet available.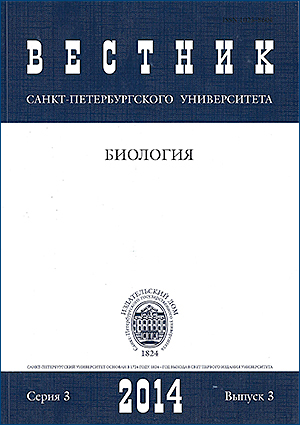 How to Cite
Kabanov, I., & Tishchenko, L. (2014). Changing the DNA methylation of repetitive sequences and single-copy genes in cancer and other human diseases. Biological Communications, (3), 62–83. Retrieved from https://biocomm.spbu.ru/article/view/1074
Section
Full communications
Articles of Biological Communications are open access distributed under the terms of the License Agreement with Saint Petersburg State University, which permits to the authors unrestricted distribution and self-archiving free of charge.