Soils of forest and tundra landscapes of northern forest-tundra of Seida and Khoseda-Yu river basins
Galina Rusanova

Institute of biology of Komi Scientific Centre of Ural Division of the Russian Academy of Sciences, 28, ul. Kommunisticheskaya, Syktyvkar, 167000, Komi Republic, Russian Federation

Olga Shakhtarova

Institute of biology of Komi Scientific Centre of Ural Division of the Russian Academy of Sciences, 28, ul. Kommunisticheskaya, Syktyvkar, 167000, Komi Republic, Russian Federation

Alexander Pastukhov

Institute of biology of Komi Scientific Centre of Ural Division of the Russian Academy of Sciences, 28, ul. Kommunisticheskaya, Syktyvkar, 167000, Komi Republic, Russian Federation
Abstract
Soils of forest and tundra ecosystems of Sieda and Khoseda-yu river basins (north-east of East European plain) were studied. Cambisols are typical soils of well drained watersheds, in parent materials represented by silty loams. Soils are characterized by Podzols formed above lower cryomethamorphic horizon. Two stages of pedogenesis were revealed using up-to-date methods and approaches. The basis to determine these stages are the morphological features (structural organization, differentiation of cutan complex) as well as recent and inherited features of pedogenic and cryogenic processes. Upper part of soil has signs of present-day «cryogenic» evolution phase and middle and lower parts of soil profile have features of taiga soil formation occurred during the Middle Holocene could be diagnosed by the presence of fragments of clay cutans and humic pedorelics. Refs 20. Figs 1. Table 7.
Keywords:
forest-tundra, cambisols, pedogenic processes, inherited features
Downloads
Download data is not yet available.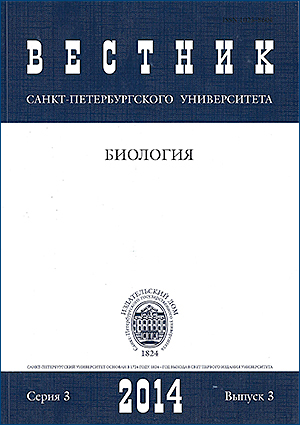 How to Cite
Rusanova, G., Shakhtarova, O., & Pastukhov, A. (2014). Soils of forest and tundra landscapes of northern forest-tundra of Seida and Khoseda-Yu river basins. Biological Communications, (3), 50–61. Retrieved from https://biocomm.spbu.ru/article/view/1073
Section
Full communications
Articles of Biological Communications are open access distributed under the terms of the License Agreement with Saint Petersburg State University, which permits to the authors unrestricted distribution and self-archiving free of charge.