Intrapopulational variation of thermal reaction norms for development in two species of leaf beetles (Coleoptera: Chrysomelidae)
Dmitrij Kutcherov

Saint Petersburg State University, 7–9, Universitetskaya nab., Saint Petersburg, 199034, Russian Federation

Vladilen Kipyatkov

Saint Petersburg State University, 7–9, Universitetskaya nab., Saint Petersburg, 199034, Russian Federation

Elena Lopatina

Saint Petersburg State University, 7–9, Universitetskaya nab., Saint Petersburg, 199034, Russian Federation
Abstract
A linear model of temperature-dependent development is widely used in ecological studies on insects. It describes a thermal reaction norm of developmental rate to temperature and has two main parameters, lower temperature threshold and sum of degree-days. Until recently, these parameters have been considered constant within species. Here we study thermal reaction norms for egg development to temperature in two leaf beetle species. There is a significant variation of the lower temperature threshold and sum of degree-days among the offspring of different females of two leaf beetle species. A parthenogenetic population exhibits a notably lower level of this variation. Refs 42. Figs 3. Tables 4.
Keywords:
temperature, development, plasticity, reaction norm, insects, Agelastica alni, Bromius obscurus
Downloads
Download data is not yet available.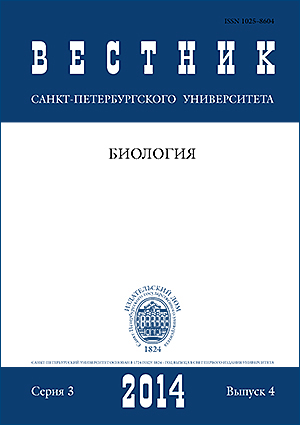 How to Cite
Kutcherov, D., Kipyatkov, V., & Lopatina, E. (2014). Intrapopulational variation of thermal reaction norms for development in two species of leaf beetles (Coleoptera: Chrysomelidae). Biological Communications, (4), 10–21. Retrieved from https://biocomm.spbu.ru/article/view/1058
Section
Full communications
Articles of Biological Communications are open access distributed under the terms of the License Agreement with Saint Petersburg State University, which permits to the authors unrestricted distribution and self-archiving free of charge.