Diet affects body color and energy metabolism in the Baikal endemic amphipod Eulimnogammarus cyaneus maintained in laboratory conditions
Abstract
Proper diet is critical for laboratory-reared animals, as it may affect not only their welfare, but also experimental results. Amphipods (Crustacea: Amphipoda) play important roles in ecosystems and are often used in environmental research. Endemic amphipods from the ancient Lake Baikal are promising for laboratory bioassays; however, there are currently no laboratory cultures. In this work, we determine how different diets affect the color and metabolism of a laboratory-reared Baikal amphipod, Eulimnogammarus cyaneus. We found that in freshly collected blue-colored animals, body color correlated with total carotenoid content. Total carotenoid levels did not differ after long-term (two months) feeding with a close to natural carotenoid-enriched, or even a carotenoid-depleted diet. Nevertheless, antennae color was closer to red in the natural-like diet group. It is likely that the carotenoids from the commercial diet are not properly metabolized in E. cyaneus. The animals fed commercial diets had a higher glycogen content, which may signify a higher metabolic rate. Overall, we show that a carotenoid-enriched diet optimized for decapods is not optimal for amphipods, likely due to different carotenoid compositions, and the diet for long-term rearing of E. cyaneus and other Baikal amphipods requires supplementation.
Keywords:
carotenoids, diet, laboratory rearing, Baikal, Amphipoda, Crustacea, Decapoda, culture, metabolites
Downloads
Download data is not yet available.
References
Jussila, J. 1997. Physiological responses of astacid and parastacid crayfishes (Crustacea: Decapoda) to conditions of intensive culture. Western Australia: University of Kuopio, 140 p.
Kamaltynov, R. M. 2001. Amphipods (Amphipoda, Gammaroidea); pp. 572–831 in: Timoshkin, O. A. (Ed.), Lake Baikal: diversity of fauna, problems of its immiscibility and origin, ecology and "exotic" communities. Index of animal species inhabiting Lake Baikal and its catchment area, Nauka, Novosibirsk.
Xavier, J. C., Cherel, Y., Boxshall, G., Brandt, A., Coffer, T., Forman, J., Havermans, C., Jażdżewska, A., Kouwenberg, J., Schnabel, K., and Schiaparelli, S. 2020. Crustacean guide for predator studies in the Southern Ocean. Scientific Committee on Antarctic Research, 253 p.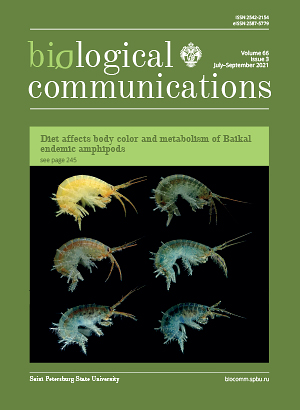 How to Cite
Saranchina, A., Drozdova, P., Mutin, A., & Timofeyev, M. (2021). Diet affects body color and energy metabolism in the Baikal endemic amphipod <em>Eulimnogammarus cyaneus</em&gt; maintained in laboratory conditions. Biological Communications, 66(3), 245–255. https://doi.org/10.21638/spbu03.2021.306
Section
Full communications
Articles of Biological Communications are open access distributed under the terms of the License Agreement with Saint Petersburg State University, which permits to the authors unrestricted distribution and self-archiving free of charge.