Wild-type p53-induced phosphatase sensitizes acute myeloid leukemia cells to conventional chemotherapy
Vasily Golotin

Laboratory of Molecular Medicine, Institute of Cytology of the Russian Academy of Sciences, Tikhoretskiy pr., 4, Saint Petersburg, 194064, Russian Federation

https://orcid.org/0000-0003-0385-2463

Ekaterina Belotserkovskaya

Almazov Federal Medical Research Centre, ul. Akkuratova, 2, 197341, Saint Petersburg, Russian Federation

https://orcid.org/0000-0003-3985-9552

Larisa Girshova

Almazov Federal Medical Research Centre, ul. Akkuratova, 2, 197341, Saint Petersburg, Russian Federation

https://orcid.org/0000-0002-0559-9556

Alexey Petukhov

Almazov Federal Medical Research Centre, ul. Akkuratova, 2, 197341, Saint Petersburg, Russian Federation

https://orcid.org/0000-0002-7298-5238

Andrey Zaritsky

Almazov Federal Medical Research Centre, ul. Akkuratova, 2, 197341, Saint Petersburg, Russian Federation

Oleg Demidov

Laboratory of Molecular Medicine, Institute of Cytology of the Russian Academy of Sciences, Tikhoretskiy pr., 4, Saint Petersburg, 194064, Russian Federation; INSERM UMR1231, Laboratory of Excellence LipSTIC and label Ligue Nationale contre le Cancer, 7 Boulevard Jeanne d'Arc, BP 27877, 21078, Dijon Cedex, France

https://orcid.org/0000-0003-4323-7174
Abstract
Recently wild-type p53-induced phosphatase was implicated in the pathogenesis of acute myeloid leukemia (AML) and "pre-leukemia" myeloproliferative conditions. Here we decided to check how the strategy directed to phosphatase inhibition affected sensitivity to conventional chemotherapy. All experiments were conducted on AML cell lines cultivated in vitro. The levels of wild-type p53-induced phosphatase vary in different AML cell lines. The chemical compound GSK2830371 reduced levels of phosphatase and diminished its activity. GSK2830371 did not significantly change the cell cycle distribution of AML cells when used alone or in combination with the anti-cancer chemotherapeutic drug Cytosar but increased caspase-dependent PARP1 cleavage. In contrast with previous studies, we did not observe the negative effect of phosphatase activity inhibition and depletion on cells when a chemical inhibitor was used as monotherapy. Using a combination of GSK2830371 with Cytosar we were able to reduce the threshold of chemotherapy-dependent cytotoxicity and more efficiently eliminate leukemic cells. We propose considering inhibition of wild-type p53-induced phosphatase as a prospective strategy in improving anti-AML therapy.
Keywords:
leukemia, AML, chemotherapy, cytarabine
Downloads
Download data is not yet available.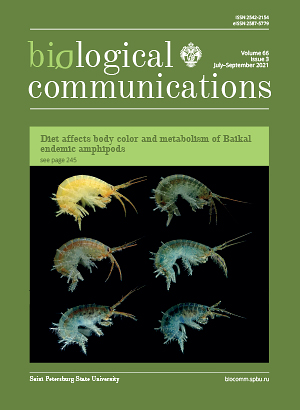 How to Cite
Golotin, V., Belotserkovskaya, E., Girshova, L., Petukhov, A., Zaritsky, A., & Demidov, O. (2021). Wild-type p53-induced phosphatase sensitizes acute myeloid leukemia cells to conventional chemotherapy. Biological Communications, 66(3), 268–273. https://doi.org/10.21638/spbu03.2021.308
Section
Brief communications
Articles of Biological Communications are open access distributed under the terms of the License Agreement with Saint Petersburg State University, which permits to the authors unrestricted distribution and self-archiving free of charge.