Allogeneic bone marrow mesenchymal stem cells in the epineurium and perineurium of the recipient rat
Elena Petrova

Laboratory of Functional Morphology of the Central and Peripheral Nervous System, Institute of Experimental Medicine, ul. Akad. Pavlova, 12, Saint Petersburg, 197376, Russian Federation

https://orcid.org/0000-0003-0972-8658

Elena Isaeva

Laboratory of Immunoformacology, Research Institute of Highly Pure Biopreparations, Russian Federal Agency for Medicine and Biology, Pudozhskaya ul., 7, Saint Petersburg, 197110, Russian Federation

Elena Kolos

Laboratory of Functional Morphology of the Central and Peripheral Nervous System, Institute of Experimental Medicine, ul. Akad. Pavlova, 12, Saint Petersburg, 197376, Russian Federation

https://orcid.org/0000-0002-9643-6831

Dmitrii Korzhevskii

Laboratory of Functional Morphology of the Central and Peripheral Nervous System, Institute of Experimental Medicine, ul. Akad. Pavlova, 12, Saint Petersburg, 197376, Russian Federation

https://orcid.org/0000-0002-2456-8165
Abstract
Achievements in regenerative medicine have demonstrated that using different kinds of stem cells can have some stimulating effect on the reparative regeneration processes of the nervous system. To stimulate nerve regeneration, the experimental elaboration of mesenchymal stem cell (MSC) transplantation is carried out actively. There is evidence that MSCs promote growth of the recipient regenerating axons after transplantation into the damaged nerve or the conduit. However, processes that happen in transplanted cells and these cells' differentiation are poorly studied. The aim of the present study is to describe the localization and morphologically peculiar properties of bone marrow-derived mesenchymal stem cells after their allotransplantation into the injured nerve of a rat. MSCs from Wistar—Kyoto rats were cultivated for seven days and labeled with BrdU three days before using. The sciatic nerves of adult Wistar—Kyoto rats were damaged, and suspensions of BrdU-labeled cultured MSCs were immediately transplanted into the damaged sciatic nerves. Five to seven days after transplantation, the surviving MSCs were found. Using fluorescent microscopy, we found that some of the transplanted cells were localized in the epineurium and in the perineurium. Some of the transplanted MSCs differentiated into adipocytes and cells of the perineurium.
Keywords:
MSCs, differentiating, nerve, epineurium, perineurium, adipocytes, immunohistochemistry, fluorescence microscopy
Downloads
Download data is not yet available.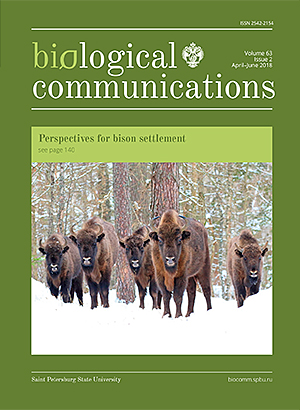 How to Cite
Petrova, E., Isaeva, E., Kolos, E., & Korzhevskii, D. (2018). Allogeneic bone marrow mesenchymal stem cells in the epineurium and perineurium of the recipient rat. Biological Communications, 63(2), 123–132. https://doi.org/10.21638/spbu03.2018.205
Section
Full communications
Articles of Biological Communications are open access distributed under the terms of the License Agreement with Saint Petersburg State University, which permits to the authors unrestricted distribution and self-archiving free of charge.