Presence of Notahypsibius pallidoides (Tardigrada: Hypsibiidae) in the fauna of Russia confirmed with the methods of DNA barcoding
Denis Tumanov

Department of Invertebrate Zoology, Faculty of Biology, Saint Petersburg State University, Universitetskaya nab., 7–9, Saint Petersburg, 199034, Russian Federation; Marine Research Laboratory, Zoological Institute of the Russian Academy of Sciences, Universitetskaya nab., 1, Saint Petersburg, 199034, Russian Federation

https://orcid.org/0000-0002-4190-4175
Abstract
A brief report is given on the tardigrade species Notahypsibius pallidoides, discovered in a moss cushion in the vicinity of Saint Petersburg. Morphological identification of the species is supported with the analysis of obtained sequences of nuclear and mitochondrial DNA barcode genes (ITS-2 and COI). The current state of knowledge of Russian fauna of Tardigrada is characterised, and all available data on the distribution of Notahypsibius pallidoides and its genetic variability are summarised. The data obtained in this study by methods of DNA barcoding demonstrated that studied specimens of the tardigrada population isolated in Russia belong to the same species (Notahypsibius pallidoides) as the control specimens isolated in Austria though represent another haplotype thus confirming the presence of Notahypsibius pallidoides for the fauna of Russia.
Keywords:
distribution, zoogeography, genetic variability, COI, ITS-2, Pilatobiinae
Downloads
Download data is not yet available.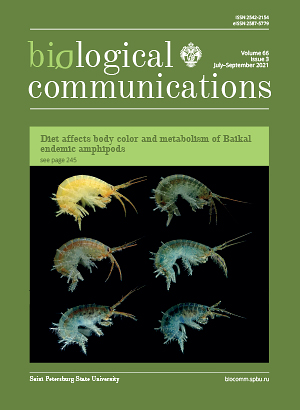 How to Cite
Tumanov, D. (2021). Presence of <em>Notahypsibius pallidoides</em&gt; (Tardigrada: Hypsibiidae) in the fauna of Russia confirmed with the methods of DNA barcoding. Biological Communications, 66(3), 274–280. https://doi.org/10.21638/spbu03.2021.309
Section
Brief communications
Articles of Biological Communications are open access distributed under the terms of the License Agreement with Saint Petersburg State University, which permits to the authors unrestricted distribution and self-archiving free of charge.