Some aspects of metal ion transport and in silico gene expression analysis of potassium/sodium ion transporters, channels and exchangers in root nodules
Natalia Trifonova

K.A. Timiryazev Institute of Plant Physiology, Russian Academy of Sciences, ul. Botanicheskaya, 35, Moscow, 127276, Russian Federation

https://orcid.org/0000-0002-3493-9994

Maria Koroleva

K.A. Timiryazev Institute of Plant Physiology, Russian Academy of Sciences, ul. Botanicheskaya, 35, Moscow, 127276, Russian Federation

https://orcid.org/0000-0001-9920-7383

Elena Fedorova

K.A. Timiryazev Institute of Plant Physiology, Russian Academy of Sciences, ul. Botanicheskaya, 35, Moscow, 127276, Russian Federation

https://orcid.org/0000-0003-3953-1282
Abstract
Rhizobia establish a symbiotic relationship with legumes, which results in the formation of root nodules, the ecological niche for intracellular rhizobia. The infected cell of a root nodule is a special integral unit of plant and nitrogen fixing rhizobia. Nodules tend to be very sensitive to ionic stresses, such as salt stress. High vulnerability toward ionic stresses might be due to defects in ion balance and transport in the infected tissue. The purpose of this minireview is to summarize the current data regarding metal ion transport in the root nodule, with particular emphasis on potassium/sodium ion transport. A bioinformatic approach and in silico gene expression analysis have been used to obtain some insight for K+/Na+ transportеr channels and exchangers in root nodule developmental zones.
Keywords:
symbiosis, root nodule, infected cell, symbiosome, ion transporters
Downloads
Download data is not yet available.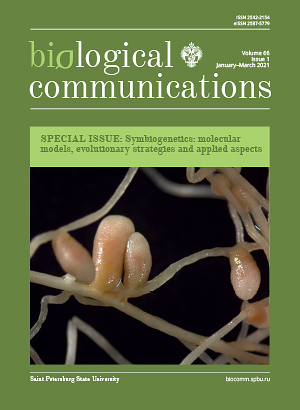 How to Cite
Trifonova, N., Koroleva, M., & Fedorova, E. (2021). Some aspects of metal ion transport and <em>in silico</em&gt; gene expression analysis of potassium/sodium ion transporters, channels and exchangers in root nodules. Biological Communications, 66(1), 55–65. https://doi.org/10.21638/spbu03.2021.107
Section
Review communications
Articles of Biological Communications are open access distributed under the terms of the License Agreement with Saint Petersburg State University, which permits to the authors unrestricted distribution and self-archiving free of charge.