Assessment of Macrophyte Biological Index for Rivers, and evaluation of physicochemical parameters in the Sakarya River Basin of Turkey
Abstract
In this study, the Macrophyte Biological Index for Rivers (IBMR) method and physicochemical measurements were used to assess the trophic status of the Sakarya River Basin in Turkey. The most abundant macrophytes were Phragmites australis, Thypa latifolia, Juncus sp., and Paspalum distichum. The IBMR values varied between 6.00 and 13.00 in spring, and between 6.714 and 14.40 in the fall season. The sampling stations, which are under the influence of agricultural runoffs, domestic effluents, and industrial discharges, had hypoxia accompanied by eutrophic and/or hypertrophic conditions at least in one season. The individual trophy levels of the sampling sites in the basin have been assessed as mesotrophic to eutrophic. However, considering the average IBMR value of all stations, the general trophy level of the basin was close to eutrophic. The results indicate that the physicochemical parameters are affected by various effluents discharged to the basin as observed during field studies, and the obtained data would be useful to apply conservation measures.
Keywords:
ecological quality, eutrophication, IBMR, macrophyte, Sakarya River Basin
Downloads
Download data is not yet available.
References
AFNOR. 2003. Qualité de l'eau: Détermination de l'indice biologique macrophytique en rivière (IBMR). NF T90–395.
Cook, C. D. K., Gut, B. J., Rix, E. M., and Schneller, J. 1974. Water plants of the World: A manual for the identification of the genera of freshwater macrophytes, Dr. W. Junk b.v., Publishers, The Hague.
Davis, P. H. 1985. Flora of Turkey and the East Aegean Islands, vol. IX, Edinburgh University Press, Edinburgh.
Dawson, F. H., Newman. J. R., and Gravelle, M. J. 1996. Mean trophic rank macrophyte survey. An assessment of the trophic status of rivers using macrophytes. Research & Development, Interim Report 694/NW/01. Environment Agency, Bristol, 29 pp.
DSİ (General Directorate of Water Management, Republic of Turkey Ministry of Food Agriculture and Livestock). 2016. Effect of climate change on water resources project final report, Appendix 14.
European Council. 2000. Directive 2000/60/EC of the European Parliament and of the Council of 23 October 2000 establishing a framework for Community action in the field of water policy. Official Journal, L 327, 22/12/2000 P. 0001–0073.
Solimini, A. G., Cardoso, A. C., Carstensen, J., Free, G., Heiskanen, A-S., Jepsen, N., Nõges, P., Poikane, S., and van de Bund, W. 2008. The monitoring of ecological status of European freshwaters. In: The Water Framework Directive Ecological and Chemical Status Monitoring.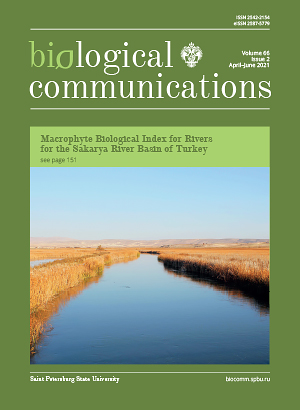 How to Cite
Acemi, A., Ergül, H. A., Kayal, M., Ekmekçi, F., & Özen, F. (2021). Assessment of Macrophyte Biological Index for Rivers, and evaluation of physicochemical parameters in the Sakarya River Basin of Turkey. Biological Communications, 66(2), 151–159. https://doi.org/10.21638/spbu03.2021.206
Section
Full communications
Articles of Biological Communications are open access distributed under the terms of the License Agreement with Saint Petersburg State University, which permits to the authors unrestricted distribution and self-archiving free of charge.