Genetic individuality and interspecies altruism: modelling symbiogenesis using different types of symbiotic bacteria
Abstract
In this minireview, we address the trade-off between biological altruism (group adaptation result-ing from the ability of an organism to improve the fitness of an associate at the expense of its own fitness) and symbiogenesis — the evolutionary pathway based on genetic integration of non-related species. We address symbiogenesis as a multi-stage process, which involves for-mation of superspecific hereditary systems — functionally integral symbiogenomes (under the facultative partners' interactions) reorganized into the structurally integral hologenomes (in the obligatory symbioses). The best studied case of symbiogenesis is represented by the evolution of the eukaryotic cell based on transformation of symbiotic bacteria into cellular organelles. This evolution is associated with the deep reduction of microsymbionts' genomes and with allocation of their genes into the hosts. As a result, microsymbionts lost their Genetic INdividuality (GIN), characterized by an ability to implement DNA- and RNA-based template syntheses required for genome maintenance and expression. Under facultative symbiotic dependence on hosts, the par-tial loss of GIN is due to a "symbiont → host" altruism which in the N2-fixing microbe–plant symbioses results in formation of non-reproducible bacterial forms (e.g., intracellular bacteroids in rhizobia or multiple heterocysts in Nostoc). If micro-symbionts lose their ability of autonomous existence (e.g., in the vertically transmitted intracellular symbionts), they are switched to the "forced altruism" in which the GIN reduction is required for the stable persistence of symbionts in hosts. Therefore, organellogenesis involves the sequential increase of the symbionts' de-pendency on hosts: conditional → facultative → obligatory → absolute. It is associated with the reorganization of microbes into semi-autonomous cellular components, which may be completely devoid of their own genomes.
Keywords:
facultative and obligatory symbioses, symbiogenesis and organellogenesis, biological altruism, microbe-plant interactions, nodule bacteria (rhizobia), superspecific genetic systems (hologenomes, symbiogenomes), genetic individuality, horizontal and endosymbiotic gene transfer
Downloads
Download data is not yet available.
References
Darwin, C. 1872. The origin of species by means of natural selection (6th edn). London: John Murray.
Haldane, J. B. S. 1932. The causes of evolution. NY: Longmans, Green & Co.
Kozo-Polyansky, B. M. 1924. New principle of biology. Overview of the symbiogenesis theory. Moscow, Russia: Puchina. (In Russian)
Margulis, L. 1993. Symbiosis in cell evolution (2nd edn). NY: Freeman.
Oparin, A. I. 1957. The origin of life on the earth (3rd edn). NY: Academic Press.
Provorov, N. A. and Tikhonovich, I. A. 2016. Genetic bases of evolution in bacterial symbionts of plants. St.-Petersburg, Russia: Inform-Navigator. (In Russian)
Provorov, N. A., Tikhonovich, I. A., and Vorobyov, N. I. 2018. Symbiosis and symbiogenesis. St.-Petersburg, Russia: Inform-Navigator. (In Russian)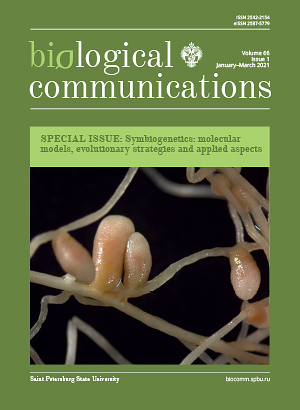 How to Cite
Provorov, N. (2021). Genetic individuality and interspecies altruism: modelling symbiogenesis using different types of symbiotic bacteria. Biological Communications, 66(1), 66–72. https://doi.org/10.21638/spbu03.2021.108
Section
Review communications
Articles of Biological Communications are open access distributed under the terms of the License Agreement with Saint Petersburg State University, which permits to the authors unrestricted distribution and self-archiving free of charge.