Visualization and analysis of actin cytoskeleton organization in plants
Gregory Pozhvanov

Department of Plant Physiology and Biochemistry, Faculty of Biology, Saint Petersburg State University, Universitetskaya nab., 7–9, Saint Petersburg, 199034, Russian Federation

https://orcid.org/0000-0002-5622-1318
Abstract
The plant cytoskeleton is a highly dynamic system that consists of two components: microfilaments and microtubules. Actin microfilaments are essential for polar growth, cytoplasmic streaming, directing polar growth, anchoring the nucleus, gravity sensing, signalling pathway integration and a number of other functions. Actin morphology and dynamics are orchestrated by a variety of small actin binding proteins, and some of them have become a source of actin interaction domains widely used as markers for microfilaments in fusions with fluorescent reporter proteins. However, older techniques are still employed for actin visualization. In this short review, we will focus on the diversity of fluorescent reporter fusions for F-actin and on approaches and existing free software for the analysis of cytoskeleton organization, mainly in Arabidopsis. Abbreviations: MF ― microfilament, MT ― microtubule, GFP ― green fluorescent protein, MFA ― Microfilament Analyzer.
Keywords:
cytoskeleton, actin, microfilament, plants, cell biology, visualization, microscopy, fluorescent protein, fluorescent dye
Downloads
Download data is not yet available.
References
Van der Honing, H. S. 2011. Actin-mediated cytoplasmic organization of plant cells. Wageningen University. 126 pp.
Johnson, I. D. 2010. The Molecular Probes handbook. A guide to fluorescent probes and labeling technologies, 11th Ed. Life Technologies Corporation, 1276 pp. ISBN: 0982927916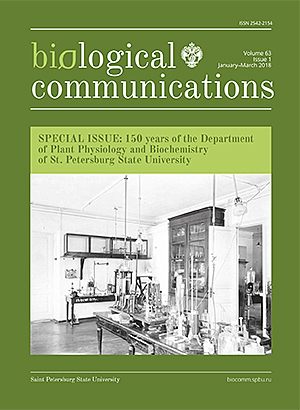 How to Cite
Pozhvanov, G. (2018). Visualization and analysis of actin cytoskeleton organization in plants. Biological Communications, 63(1), 59–69. https://doi.org/10.21638/spbu03.2018.107
Section
Review communications
Articles of Biological Communications are open access distributed under the terms of the License Agreement with Saint Petersburg State University, which permits to the authors unrestricted distribution and self-archiving free of charge.