Phylogenetic relationships of psammosteid heterostracans (Pteraspidiformes), Devonian jawless vertebrates
Vadim Glinskiy

Institute of Earth Sciences, Saint Petersburg State University, Universitetskaya nab., 7–9, Saint Petersburg, 199034, Russian Federation

https://orcid.org/0000-0001-9151-1161
Abstract
Psammosteid heterostracans are a group (suborder Psammosteoidei) of Devonian-age jawless vertebrates, which is included in the order Pteraspidiformes. The whole group of psammosteids is represented by numerous species (more than 40); their phylogenetic relationships are still poorly known and deserve further study. Classical researchers of the psammosteids, such as D. Obruchev, E. Mark-Kurik and L. Halstead Tarlo, had different views on the phylogeny of the group (e.g. origins and evolution of Psammosteus). To check the modern hypotheses of psammosteid origins from various Pteraspidiformes and to clarify psammosteid interrelationships, the most complete phylogeny of this group (38 ingroup taxa + juvenile Drepanapsis) is presented here. Different methods of data analysis were used to explore the psammosteid data set, including equally weighted characters versus implied weighting. According to the results of the phylogenetic analysis, the monophyletic status of the group and their early development from the Pteraspidiformes are supported. The diagnoses and interrelationships of many taxa are clarified. Two new genera are proposed (Vladimirolepis gen. nov. and Elgaia gen. nov.), and two subfamilies are erected (Placosteinae subfam nov. and Psammosteinae Traquair).
Keywords:
Agnatha, Heterostraci, Pteraspidiformes, psammosteids, phylogeny, classification
Downloads
Download data is not yet available.
References
Agassiz, L. 1833–1843. Recherches sur les Poissons fossiles. Tableau général des Poissons fossiles, rangés par terrains, vol. 1. Neuchâtel.
Agassiz, L. 1844. Monographie des Poissons fossiles du vieux grè s rouge ou système Dévonien (Old Red Sandstone) des Isles Britanniques et de Russie. Neuchâtel: Jent & Gaßmann (Solothurn).
Agassiz, L. 1845. Lettres sur les Poissons fossiles du système Dévonien de la Russie; pp. 397–418 in Murchison, R. I., dе Vеrnеuil, Е. & A. de Кеуsеrling, C. А. Géologie de la Russie d'Europe et des montagnes de l'Oural, vol. 2. Paris.
Blieck, A. 1984. Les Hétérostracés Ptéraspidiformes, agnathes du Silurien-Dévonien du continent Nord-Atlantique et des blocs avoisinants: revision systématique, phylogénie, biostratigraphie, biogéographie. Paris: Cahiers de Paléontologie (section Vertébrés), éditions du CNRS.
Blieck, A. R. M., Elliott, D. K., and Gagnier, P.-Y. 1991. Some questions concerning the phylogenetic relationships of heterostracans, Ordovician to Devonian jawless vertebrates; pp. 1–17 in C. Mee-Mann, L. Yu.-hai and G. Zhang (eds), Early vertebrates and related problems of evolutionary biology. Beijing: Science Press.
Bystrow, A. P. 1955. Mikrostruktura pantsyrya beschelyustnykh pozvonochnykh silura i devona [Microstructure of the armor of the jawless vertebrates from Silurian and Devonian]; pp. 472–523 in E. M. Murzaev (ed.), Pamyati akademika L. S. Berga. Sbornik rabot po geografii i biologii. Publishing of AN USSR, Moscow-Leningrad.
Eichwald, E. 1860. Lethaea Rossica, ou Paléontologie de la Russie, décrite et figurée. Premier Volume. Ancienne periode. Stuttgart: E. Schweizerbart.
Glinskiy, V. 2017. Evolutionary lineages in the family Psammosteidae (Agnatha: Pteraspidiformes): pp. 39–40, in Ginter, M. (ed.), 14th International Symposium on Early and Lower Vertebrates (Cheçiny, Poland, 2017). Ichthyolith Issues, Special Publication, 13.
Glinskiy, V. 2018. Resul'taty analiza filogeneticheskikh svjazej devonskykh psammosteidnykh beschelyustnykh (Pteraspidiformes: Psammosteida). [Results of analysis of the phylogenetic relationships of the Devonian psammosteid agnathans (Pteraspidiformes: Psammosteida)]: pp. 189–190, in Bogdanova, T. M. et al. (eds), Fundamental'naya i prikladnaya paleontologija. Materialy LXIV sessii Paleontologicheskogo obshestva (Saint Petersburg, Russia, 2–6 April, 2018).
Halstead, L. B. 1993. Agnatha; pp. 573–581 in M. J. Benton. The Fossil Record 2. London: Chapmann & Hall.
Halstead Tarlo, L. B. 1964b. The origin of bone; pp. 3–17 in H. J. J. Blackwood, ed. Bone and Tooth: Proceedings of the First European Symposium held at Somerville College, Oxford, April 1963. Oxford: A Pergamon Press Book.
Janvier, P. 1996. Early Vertebrates. Oxford and New York: Clarendon Press (Oxford University Press).
Lyarskaya, L. A. 1971. Novye nakhodki ostatkov psammosteid iz shvyantojskogo gorizonta Latvii [New finds of psammosteid remains from the Šventoji Formation of Latvia]; pp. 97–104 in A. A. Grigelis (ed.), Paleontologiya i stratigraphiya Pribaltiki i Belorussii. Sbornik 3. Mintis, Vilnius.
Mark, E. Y. 1955. Psammosteidy (Agnatha) tartuskogo i gaujskogo gorizontov devona Estonskoj SSR [Psammosteids (Agnatha) from Tartu and Gauja formations of Devonian deposits of Estonian SSR], Tallinn.
Mark-Kurik, E. Y. 1966. O nekotorykh povrezhdeniiakh ekzoskeleta psammosteid (Agnatha). [On the some injuries of the exoskeleton of the psammosteids (Agnatha)]; pp. 55–60 in R. G. W. Hecker (ed.), Organism i sreda v geologicheskom proshlom. Nauka, Moskow.
Novitskaya, L. I. 1965. Mikrostroenie nekotorykh Psammosteida [Microstructure of some Psammosteida]; pp. 257–282 in D. V. Obruchev, E. Y. Mark-Kurik, Psammosteidy (Agnatha, Psammosteidae) dеvоnа SSSR [Devonian psammosteids (Agnatha, Psammosteidae) of the USSR]. Tallinn: Institute of Geology, Academy of Sciences of the Estonian SSR.
Novitskaya, L. I. 2004. Podklass Heterostraci [Suborder Heterostraci]; pp. 69–207 in L. I. Novitskaya, (ed.), Fossil vertebrates of Russia and adjacent countries. Agnathans and early fishes. GEOS, Moscow.
Obruchev, D. V. 1943c. Psammosteidae devona SSSR i Spitsbergena i evolyutsiya Agnatha [Psammosteidae from the Devonian of USSR and Spitsbergen and evolution of Agnatha]. Biological Department of the Academy of Sciences of USSR. Moskow.
Obruchev, D. V. 1947a. Tip Chordata. Khordovye. Podtip Vertebrata. Pozvonochnye [Phylum Chordata. Chordates. Subphylum Vertebrata. Vertebrates]; pp. 191-206 in D. Nalivkin, (ed.), Atlas of the guide forms of the fossil faunas of the USSR. Volume III. Devonien, vol. 3. State Editorial Office for Geological Literature USSR Ministry of Geology, Moskow-Leningrad.
Obruchev, D. V. 1964. Vetv' Agnatha. Beschelyustnye [The ramus Agnatha. Jawless vertebrates]; pp. 34–116 in D. V. Obruchev (ed.), Osnovy paleontologii. Beschelyustnye, ryby. Basics of Palaeontology. Jawless Vertebrates, Fisches, vol. 11. Nauka, Moscow.
Obruchev, D. V. 1968. Ob evolyutsii Heterostraci [On the evolution of Heterostraci]; pp. 21–23 in D. V. Obruchev, (ed.), Essays on phylogeny and taxonomy of fossil fishes and agnathans. Nauka, Moscow.
Obruchev, D. V., and Mark-Kurik, E. Yu. 1965. Devonian psammosteids (Agnatha, Psammosteidae) of the USSR. Tallinn: Institute of Geology, Academy of Sciences of the Estonian SSR.
Stensiö, E. A. 1958. Les cyclostomes fossiles ou ostracodermes; pp. 173–425 in P.-P. Grassé, (ed.), Traité de Zoologie, vol. 13:1. Masson, Paris.
Tarlo, L. B. H. 1967. Agnatha (Part II: Documentation of the fossil record); pp. 629–636 in W. B. Harland et al. (eds), The Fossil Record. Geological Society of London, London.
Traquair, R. H. 1896. The extinct vertebrate animals of the Moray Firth Area; pp. 235–285 in Harvie-Brown, J. A. and Buckley, T. E. (eds), A vertebrate fauna of the Moray Basin. Vol. 2. Edinburgh: David Douglas.
Woodward, A. S. 1891. Catalogue of the fossil fishes in the British Museum (Natural History). Pt. 2. London: Printed by order of the Trustees.
Woodward, A. S. 1910. A guide to the fossil reptiles, amphibians, and fishes in the Departement of Geology and Palaeontology in the British Museum (Natural History). 9-th edition. London, British Museum.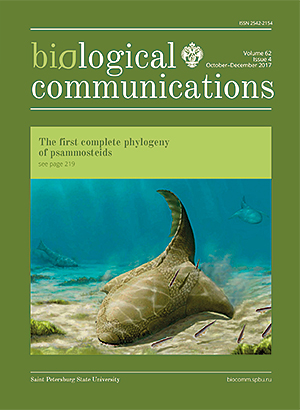 How to Cite
Glinskiy, V. (2018). Phylogenetic relationships of psammosteid heterostracans (Pteraspidiformes), Devonian jawless vertebrates. Biological Communications, 62(4), 219–243. https://doi.org/10.21638/11701/spbu03.2017.402
Section
Full communications
Articles of Biological Communications are open access distributed under the terms of the License Agreement with Saint Petersburg State University, which permits to the authors unrestricted distribution and self-archiving free of charge.