Variability of the hepatic α-amilase activities in the liver of fish species from the Sevastopol bays, Black Sea
Natalya Kuzminova

A.O. Kovalevsky Institute of Biology of the Southern Seas, Russian Academy of Sciences, Nakhimov Ave., 2, Sevastopol, 299011, Crimea, Russian Federation

https://orcid.org/0000-0001-5453-0136
Abstract
This paper presents the results of a study of α-amylase activity in liver of widely represented species of twelve Black sea fish. Comparative analysis of interspecies differences showed that the medium level of enzyme activity is very high only in liver of annular seabream and horse mackerel. The Black Sea predators (scorpion fish, stargazer, shore rockling, whiting) have low values of the medium level of enzyme activity (range from 0,02 to 62,79 mg / s / g of protein). Enzyme activity did not depend on fish sex, their age and location. Research has established lack of any link between activity of enzyme and age for both the scorpion fish and high body pickarel. While studying the effects of seasonal features on enzyme activity in the liver of two dominant species in the coastal zone, it was concluded that enzyme activity is lower in winter than in other seasons.
Keywords:
fish, digestive enzyme, liver, Black Sea
Downloads
Download data is not yet available.
References
Afanasyeva, O. M. 2011. The assessment of zoohygienic safety of monklavitу-1 and its use for calves growing. Author. Dis. Cand. Thesis. Veterinary sanitation, ecology, pet hygiene and veterinary sanitary expertise. Saint Petersburg. 20 p. (In Russian)
Kandyuk, R. P. 1966. Comparative study of the activity and the thermal stability of digestive enzymes of plankton and benthic fish northwestern part of the Black Sea. Author. Diss. Thesis. Odessa. Hydrobiology. 22 p. (In Russian)
Kuzminova, N. S. 2006. Study of the toxic effect of domestic sewage on marine organisms. Diss. Cand. Thesis. Ecology. Moscow. 168 p. (In Russian)
Kuzminova, N. S., Kulakovskaya, E. V., and Yakimova, K. V. 2014b. The concentration of circulating immune complexes in the blood of Black Sea fishes in the modern period; pp. 321‒325 in Abstracts of Intern. scientific conf. «Actual problems of fisheries and aquaculture for basins of the southern seas of Russia». Rostov-on-Don, 1–3 October 2014. (In Russian)
Mironov, O. G. and Alemov, S. V. 2018. Sanitary and biological research of coastal water areas of south-western Crimea at the beginning of the XXI century. Institut morskih biologicheskih issledovanij im. A.O. Kovalevskogo RAN, Izdatelstvo IT «AREAL», Simferopol. 276 p. (In Russian)
Pozdnyakova, I. A., Ivanov, V. V., Kanskaya, N. V., Timin, O. A., and Kolesova, N. I. 2009. Laboratory workshop on biological chemistry for students of Faculty of Pharmacy: Tutorial. Izdatelstvo Siberian State Medical University, Tomsk. 250 p. (In Russian)
Pravdin, I. F. 1966. Guidelines for the study of fish. Izdatelstvo Pishevaya promislennost, Moscow. 374 р. (In Russian)
Revkov, N. K. 2011. Macrozoobenthos of the Ukrainian shelf of the Black Sea; pp. 140–162 in V. N. Eremeev, A. V. Gaevskaya, G. E. Shul'man, Yu. A. Zagorodnyaya (ed.): Promyslovye bioresursy Chernogo i Azovskogo morej. NAN Ukrainy, Institut biologii yuzhnyh morej NAN Ukrainy. Izdatelstvo EKOSI-Gidrofizika, Sevastopol. (In Russian)
Ugolev, A. M. and Kuzmina, V. V. 1993. Digestive processes and the adaptation of fish. Izdatelstvo Gidrometeoizdat, Saint Petersburg. 120 р. (In Russian)
Vinnikova, S. V. 2010. Membrane digestion in rabbits under stress conditions and its correction. Author. Diss. Cand. Thesis. Diagnosis of diseases and therapy of animals, pathology, oncology and morphology of animals. Saint Petersburg. 25 p. (In Russian)
Zavyalov, A. V., Zalevskaya, I. N., Kovirshina, N. V., Kuzminova, N. S., Oven, L. S., Omelchenko, S. O., Poduvay, Y. V., Salekhova, L. P., Samotoy, Y. V., Skuratovskaya, E. N., Chesnokova, I. I., Shaida, V. G., and Shevchenko, N. F. 2016. Ecotoxicological studies of the coastal Black Sea ichthyofauna in the region of Sevastopol. Izdatelstvo GEOS, Moscow. 316 p. (In Russian)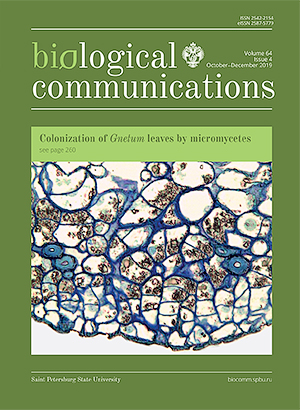 How to Cite
Kuzminova, N. (2020). Variability of the hepatic α-amilase activities in the liver of fish species from the Sevastopol bays, Black Sea. Biological Communications, 64(4), 235–243. https://doi.org/10.21638/spbu03.2019.402
Section
Full communications
Articles of Biological Communications are open access distributed under the terms of the License Agreement with Saint Petersburg State University, which permits to the authors unrestricted distribution and self-archiving free of charge.