Biological role and health benefits of antioxidant compounds in cereals
Vadim Polonskiy

Department of Landscape Architecture, Botany and Agroecology, Krasnoyarsk State Agricultural University, pr. Mira, 90, Krasnoyarsk, 660049, Russian Federation; Siberian Federal University, Svobodnyj pr., 79, Krasnoyarsk, 660041, Russian Federation

https://orcid.org/0000-0002-7183-0912

Igor Loskutov

Federal Research Center N.I. Vavilov All-Russian Institute of Plant Genetic Resources, Bol'shaya Morskaya ul., 42–44, Saint Petersburg, 190000, Russian Federation

https://orcid.org/0000-0002-9250-7225

Alena Sumina

Department of Geography and Geoecology, N.V. Katanov Khakass State University, ul. Lenina, 90, Abakan, 655000, Russian Federation

https://orcid.org/0000-0002-0466-6833
Abstract
Substances inhibiting or preventing oxidative damage in the target molecule are called antioxidants. It has been shown that antioxidants are substances that contribute to the prevention of a number of serious human diseases, and antioxidant activity is one of the important parameters for the quality of food products and ingredients. Phenolic compounds are of greatest importance for this review. It is now established that whole grain cereals contain a large number of bound polyphenols. It is known that cereals have high nutritional value, contain unsaturated fatty acids, basic mineral elements, proteins and β-glucans, and are also characterized by the presence of various chemical substances with antioxidant properties. In recent years, work has begun in some Western countries to study the content of antioxidants in various grains. In Russia, only a small amount of work has been devoted to the study of these important chemical compounds in grain crops. It should be noted that, although these species are considered to be one of the main components of human nutrition, research in the field of determining their antioxidant activity has not been sufficiently carried out. In order to attract the attention of plant growers, plant breeders, plant physiologists, geneticists and biotechnologists, we offer a review of current literature.
Keywords:
grain, wheat, barley, oats, rye, corn, rice, antioxidants, flavonoids, phenolic acids, health, genotype, environmental condition, breeding
Downloads
Download data is not yet available.
References
Konarev, A. V. and Khoreva, V. I. 2000. Biochemical research of plant genetic resources in VIR. VIR, S-Petersburg, Russia. (In Russian)
Liu, Y. 2010. Beta-glucan effects on pasting properties and potential health benefits of flours from different oat lines. Graduate Theses and Dissertations. Paper 11303. Ames, Iowa: Iowa State University.
Loskutov, I. G. 1999. N.I. Vavilov and his Institute. A history of the world collection of plant genetic resources in Russia. FAO /IPGRI, Rome.
Loskutov, I. G. 2009. The history of plant genetic resources in Russia. SPb, GNTs RF VIR. (In Rissian)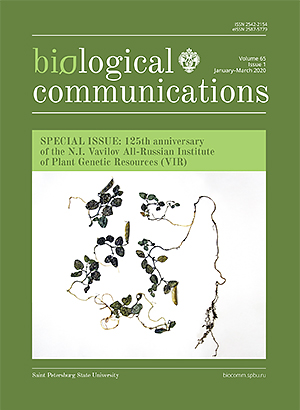 How to Cite
Polonskiy, V., Loskutov, I., & Sumina, A. (2020). Biological role and health benefits of antioxidant compounds in cereals. Biological Communications, 65(1), 53–67. https://doi.org/10.21638/spbu03.2020.105
Section
Review communications
Articles of Biological Communications are open access distributed under the terms of the License Agreement with Saint Petersburg State University, which permits to the authors unrestricted distribution and self-archiving free of charge.