Ascorbate in the apoplast of elongating plant cells
Elena Sharova

Department of Plant Physiology and Biochemistry, Faculty of Biology, Saint Petersburg State University, Universitetskaya nab., 7–9, Saint Petersburg, 199034, Russian Federation

https://orcid.org/0000-0003-2746-1993

Aleksandra Romanova

Department of Plant Physiology and Biochemistry, Faculty of Biology, Saint Petersburg State University, Universitetskaya nab., 7–9, Saint Petersburg, 199034, Russian Federation
Abstract
It was shown that basipetal retardation of cell elongation in the growth zone of etiolated maize mesocotyls correlates with a steep decrease in the apoplastic ascorbic acid (ASC) concentration (50 μM → 10 μM) and ascorbate redox state (17 % → 5 %). Exogenous ASC (0.3 mM) not only inhibits peroxidase-dependent oxidation of phenols in vitro. It also exerts a highly specific effect on the secretion of peroxidases by stimulating the release of some isoforms while inhibiting the release of others to the cell walls. This effect points to the hypothetic signaling function of apoplastic ascorbate. Previously, we described a basipetal decrease in hydrogen peroxide concentration in the apoplast (from 5.1 to 2.0 μM) and a two-times increase in cell wall peroxidase potential activity (Sharova et al., 2012). Summarizing found gradients, we can assume that the conditions in the apoplast of the upper mesocotyl segment are favorable for the occurrence of the Fenton reaction (high ASC and hydrogen peroxide concentrations) and unfavorable for the oxidation of phenols (high ASC concentration and low potential peroxidase activity), which contributes to cell wall extensibility and rapid cell elongation.
Keywords:
apoplast, ascorbate, cell wall, growth regulation, maize seedlings, peroxidase, secretion
Downloads
Download data is not yet available.
References
Sharova, E. I. 2004. Kletochnaya stenka rastenii [The plant cell wall.] 153 pp. Izdatelstvo Sankt-Peterburgskogo Universiteta, Saint Petersburg.
Sharova, E. I. 2016. Antioxidanty rastenij [Plant antioxidants.] 140 pp. Izdatelstvo Sankt-Peterburgskogo Universiteta, Saint Petersburg.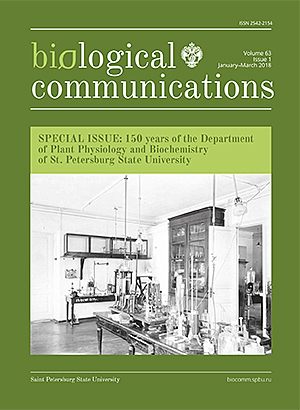 How to Cite
Sharova, E., & Romanova, A. (2018). Ascorbate in the apoplast of elongating plant cells. Biological Communications, 63(1), 77–86. https://doi.org/10.21638/spbu03.2018.109
Section
Full communications
Articles of Biological Communications are open access distributed under the terms of the License Agreement with Saint Petersburg State University, which permits to the authors unrestricted distribution and self-archiving free of charge.