Character of growth correlations in Arabidopsis abruptus mutant with deteriorated auxin transport
Elena Sharova

Department of Plant Physiology and Biochemistry, Faculty of Biology, Saint Petersburg State University, Universitetskaya nab., 7–9, Saint Petersburg, 199034, Russian Federation

https://orcid.org/0000-0003-2746-1993

Andrey Lipchinski

Department of Plant Physiology and Biochemistry, Faculty of Biology, Saint Petersburg State University, Universitetskaya nab., 7–9, Saint Petersburg, 199034, Russian Federation
Abstract
Internodes of inflorescence stems of wild-type (wt) A. thaliana and abruptus (abr) mutant with deteriorated polar auxin transport had similar axial growth gradients, elongating by their 5–6 mm long subnodal part. Pin-formed shoots of abr plants had less steep axial growth gradient. Basipetal growth retardation was accompanied by cell-wall elastic and plastic extensibility decrease and cell-wall peroxidase activity increase. So, the growth retardation can be caused by cell-wall stiffening resulted from peroxidase-dependent oxidative cross-linking of polymers. Inflorescence stems of abr had evidently overlapping growth periods of successive internodes which suggested participation of polar auxin transport in the correlative inhibition of internodes growth.
Keywords:
Arabidopsis thaliana, pinoid mutant, polar auxin transport, growth correlations, cell-wall extensibility, peroxidases
Downloads
Download data is not yet available.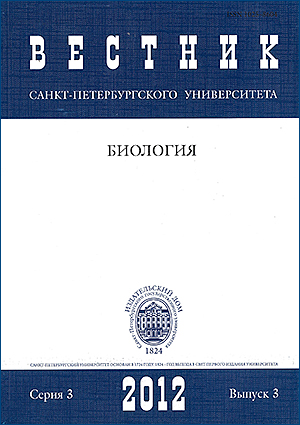 How to Cite
Sharova, E., & Lipchinski, A. (2012). Character of growth correlations in <em>Arabidopsis abruptus</em&gt; mutant with deteriorated auxin transport. Biological Communications, (3), 60–67. Retrieved from https://biocomm.spbu.ru/article/view/3356
Section
Full communications
Articles of Biological Communications are open access distributed under the terms of the License Agreement with Saint Petersburg State University, which permits to the authors unrestricted distribution and self-archiving free of charge.