Migration behaviour of fluoride in contaminated soils near ammophos production plant: laboratory studies
Abstract
Fluoride contamination of irrigated alkaline soils (Irragric Anthrosols) is a common problem in the areas of vast cotton production in Uzbekistan. Large number of laboratory measurements using corresponding models allows deeper studying the fluoride mobility in contaminated soil in the vicinity of Ammophos production factory. In a series of column experiments the migration ability of fluoride was studied in Irragric Anthrosols of different particle size distribution and four different experiments using near neutral and acidic washing water in the low, moderate and highly contaminated soils. It has been established that studied soils, located in the zone of airborne emissions from the Ammophos production plants, have a weak fluoride-holding capacity. The intensity of fluoride migration was conditioned by the initial level of soil contamination. Repeated simulated irrigation of the soil didn't result in complete removal of fluoride. At low contamination level (3.5 mg F/kg soil) on sandy-loam soil, concentration of fluoride increased with increasing of the volume of leaching moisture. With medium contamination level (6.1 mg F/kg soil) on a loamy soil, the average leaching rate was near zero throughout the measurement interval. At high contamination level (17.5 mg/kg) on heavy textured soil, the increase in the concentration of fluoride in the eluates was observed throughout the entire study interval and posed a threat of ground water contamination.
Keywords:
soil contamination, fluoride, migration, irrigation, modelling
Downloads
Download data is not yet available.
References
Abdullaev, I., Giordano, M., and Rasulov, A. 2007. Cotton in Uzbekistan; pp. 102–188 in Kandiyoti, D. (ed.). The cotton sector in Central Asia. University of London, chapter 3.
Bure, V. M. 2007. Methodology of statistical analysis of empirical data. 141 pp. Izdatelstvo Sankt-Peterburgskogo Universiteta, St. Petersburg. (In Russian)
Djanibekov, N., Rudenko, R., Lamers, J. P. A., and Bobojonov, I. 2010. Pros and cons of cotton production in Uzbekistan. In: Pinstrup-Andersen, P.; Cheng, F. (eds.) Food policy for developing countries: Case studies. Cornell University, New York.
Poulsen, R. 2011. The effect of fluoride pollution on soil microorganisms; 42 pp.10 ECTS thesis, University of Iceland, Reykjavik.
Samofalova, I. A. and Rogiznaya, J. A. 2013. The practical laboratories for chemical analysis of soils: textbook. 133 pp. Perm. (In Russian)
WHO, 2004. Guidelines for drinking water quality. Reccomendations, vol 1. World Health Organization, Geneva.
WRB, 2015. World Reference Base of Soil resources. World Soil resources Reports 106 Food and Agriculture Organization of the United Nations; 192 p. Rome. Italy.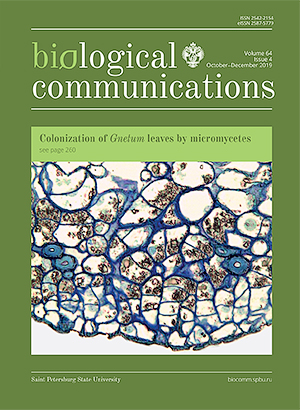 How to Cite
Litvinovich, A., Pavlova, O., Lavrishchev, A., Bure, V., & Saljnikov, E. (2020). Migration behaviour of fluoride in contaminated soils near ammophos production plant: laboratory studies. Biological Communications, 64(4), 270–278. https://doi.org/10.21638/spbu03.2019.406
Section
Full communications
Articles of Biological Communications are open access distributed under the terms of the License Agreement with Saint Petersburg State University, which permits to the authors unrestricted distribution and self-archiving free of charge.