Physiological functions of phlorotannins
Valeriya Lemesheva

Department of Plant Physiology and Biochemistry, Faculty of Biology, Saint Petersburg State University, Universitetskaya nab., 7–9, Saint Petersburg, 199034, Russian Federation

Elena Tarakhovskaya

Department of Plant Physiology and Biochemistry, Faculty of Biology, Saint Petersburg State University, Universitetskaya nab., 7–9, Saint Petersburg, 199034, Russian Federation; Russian Academy of Sciences Library, Birzhevaia Liniia 1, Saint Petersburg, 199034, Russian Federation

https://orcid.org/0000-0002-5341-2813
Abstract
Phlorotannins are the most abundant group of metabolites specific for brown algae. These substances contribute both to the primary and secondary metabolism of the algal cells and have practical relevance as biologically active compounds. The list of their presumable physiological functions is still not exhaustive and includes wound healing, chelation of heavy metal ions, bioadhesion, contribution to the processes of algal early embryogenesis and sporogenesis, etc. Similar to higher plant phenolics, phlorotannins also have antioxidant properties, provide chemical defense against herbivores and contribute to cell wall rigidification. The complex and diverse composition of natural phlorotannins hampers investigation of their physiological roles and leads to inconsistencies in the obtained data. Further study of the correlation between the structure of these substances and their functions is needed to take a new look at known information, thus providing better performance in the fields of both fundamental algal physiology and applied phycology.
Keywords:
phlorotannins, brown algae, phenolic compounds, cell wall, physodes, algal exudates, bioadhesion, antifouling compounds
Downloads
Download data is not yet available.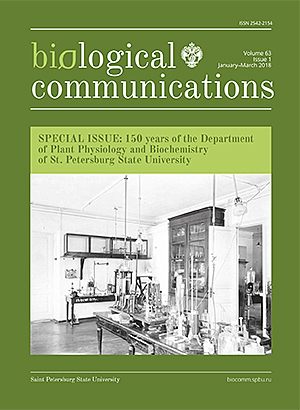 How to Cite
Lemesheva, V., & Tarakhovskaya, E. (2018). Physiological functions of phlorotannins. Biological Communications, 63(1), 70–76. https://doi.org/10.21638/spbu03.2018.108
Section
Review communications
Articles of Biological Communications are open access distributed under the terms of the License Agreement with Saint Petersburg State University, which permits to the authors unrestricted distribution and self-archiving free of charge.