Contribution of cytosine desaminases of AID/APOBEC family to carcinogenesis
Irina Zotova

Vavilov Institute of General Genetics Russian Academy of Sciences, Saint Petersburg Branch, Universitetskaya nab., 7–9, Saint Petersburg, 199034, Russian Federation; Department of Genetics and Biotechnology, Faculty of Biology, Saint Petersburg State University, Universitetskaya nab., 7–9, Saint Petersburg, 199034, Russian Federation

https://orcid.org/0000-0001-6393-5645

Elena Stepchenkova

Vavilov Institute of General Genetics Russian Academy of Sciences, Saint Petersburg Branch, Universitetskaya nab., 7–9, Saint Petersburg, 199034, Russian Federation; Department of Genetics and Biotechnology, Faculty of Biology, Saint Petersburg State University, Universitetskaya nab., 7–9, Saint Petersburg, 199034, Russian Federation

https://orcid.org/0000-0002-5854-8701

Youri Pavlov

Eppley Institute for Research in Cancer and Allied Diseases, University of Nebraska Medical Center, Omaha, NE, 68198, USA; Departments of Microbiology and Pathology; Biochemistry and Molecular Biology; Genetics, Cell Biology and Anatomy, University of Nebraska Medical Center, Omaha, NE, 68198, USA

https://orcid.org/0000-0003-1179-5796
Abstract
Cytosine deaminases of the AID/APOBEC family have a weighty influence on human health. These enzymes are part of the innate and humoral immunity; they participate in lipid metabolism and muscle development, protect cells from viruses and regulate retrotransposition. If the activity of AID/APOBEC deaminases is misregulated, they can become "weapons of mass destruction," causing deaminations in unprotected single-stranded DNA regions leading to genome-wide mutagenesis. Ultimately, mutations contribute to cell malignancy and rapid evolution of cancer cells, helping them to evade the organism's defense. Also, hypermutable tumor cells develop resistance to anti-cancer drugs. Here we overview current understanding of the structure, functions, and regulation of AID/APOBEC cytosine deaminases in connection to carcinogenesis.
Keywords:
Cytosine deaminases AID/APOBEC, DNA damage, mutation, cancer
Downloads
Download data is not yet available.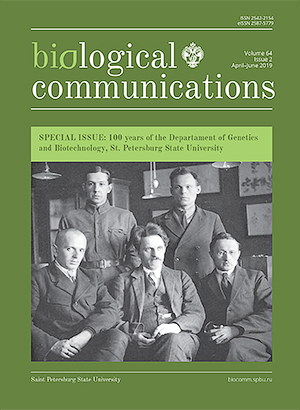 How to Cite
Zotova, I., Stepchenkova, E., & Pavlov, Y. (2019). Contribution of cytosine desaminases of AID/APOBEC family to carcinogenesis. Biological Communications, 64(2), 110–123. https://doi.org/10.21638/spbu03.2019.203
Section
Review communications
Articles of Biological Communications are open access distributed under the terms of the License Agreement with Saint Petersburg State University, which permits to the authors unrestricted distribution and self-archiving free of charge.