Pheromonal effects on germ cells of house mouse males: possible evolutionary consequences
Eugene Daev

Department of Genetics and Biotechnology, Faculty of Biology, Saint Petersburg State University, Universitetskaya nab., 7–9, Saint Petersburg, 199034, Russian Federation

https://orcid.org/0000-0003-2036-6790
Abstract
It is well known that in mice some pheromones modify reproductively important features. But the genetic mechanisms underlying such changes remain insufficiently studied. Here we show that in laboratory mice (Mus musculus L.), volatile signal 2,5-dimethylpyrazine excreted by donor stressed females increases the level of structural chromosome aberrations and other meiotic disturbances in spermatocytes of recipient males after nasal contact with the volatiles via sniffing. These chemosignals (i.e. pheromones) also induce abnormalities of sperm heads in the recipient mice. We assume that visible macro-damages at the chromosome level in meiotic cells are marks of a more widely disturbing effect (not only macro- but also micro-damages) of some olfactory signals in meiotic cells. It is most probable that the effects of volatile cues are mediated by the nervous system of the recipient organism. While gross chromosomal aberrations lead mainly to death of damaged cells, some of them (micro-damages of the chromosomes) might reach spermatozoa, and we detected part of them as anomalous sperm heads. Such abnormalities can reduce the fertilizing capacity of sperm. Moreover, some of the mutations induced by density-dependent volatile chemosignals can reach the progeny and influence the quantity and genetic quality of future generations. Possible microevolutionary consequences are discussed.
Keywords:
abnormal sperm heads, chromosome aberrations, house mouse, microevolutionary consequences, pheromones, spermatocytes
Downloads
Download data is not yet available.
References
Daev, E. V. 1983. Action of exogenic metabolites on cytogenetic characteristics of spermatogenesis and reproductive function of house mouse males. PhD thesis, Leningrad State University, Leningrad (Saint-Petersburg), Russia.
Daev, E. V. 2010. Genetic Aspects of Stress Neuroendocrinology. In Penkava, N.S, and Haight, L.R. (eds), Neuroendocrinology Research Developments. Nova Science Publishers, Inc., New York, Hauppauge, pp. 119–133.
Glynin, T. S. 2018. Pathways of stabilization and destabilization of bone marrow cell genome under olfactory chemosignals action in mice. PhD thesis in Biology, Saint-Petersubrg State University, Saint-Petersubrg, Russia.
Vandenbergh, J. G. 1983. Pheromones and reproduction in mammals. Academic Press Inc., New York.
Wyrobek, A. J. and Bruce, W. R. 1978. The induction sperm-shape abnormalities in mice and humans. In: Hollaender, A. and de Serres, F.J. (eds). Chemicals Mutagen Principles and Methods for their Detectionl 5. Plenum Press, New York, pp. 257–285.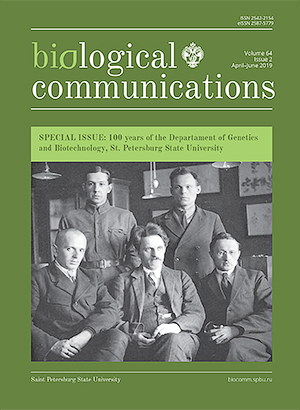 How to Cite
Daev, E. (2019). Pheromonal effects on germ cells of house mouse males: possible evolutionary consequences. Biological Communications, 64(2), 158–165. https://doi.org/10.21638/spbu03.2019.207
Section
Full communications
Articles of Biological Communications are open access distributed under the terms of the License Agreement with Saint Petersburg State University, which permits to the authors unrestricted distribution and self-archiving free of charge.