Genome response of hippocampal cells to stress in male rats with different excitability of the nervous system
Veronika Shcherbinina

Department of Genetics and Biotechnology, Faculty of Biology, Saint Petersburg State University, Universitetskaya nab., 7–9, Saint Petersburg, 199034, Russian Federation; Laboratory of Higher Nervous Activity Genetics, Pavlov Institute of Physiology, Russian Academy of Sciences, nab. Makarova, 6, Saint Petersburg, 199034, Russian Federation

https://orcid.org/0000-0002-4813-736X

Alexander Vaido

Laboratory of Higher Nervous Activity Genetics, Pavlov Institute of Physiology, Russian Academy of Sciences, nab. Makarova, 6, Saint Petersburg, 199034, Russian Federation

Diana Khlebaeva

Laboratory of Higher Nervous Activity Genetics, Pavlov Institute of Physiology, Russian Academy of Sciences, nab. Makarova, 6, Saint Petersburg, 199034, Russian Federation

https://orcid.org/0000-0002-5157-486X

Natalia Dyuzhikova

Laboratory of Higher Nervous Activity Genetics, Pavlov Institute of Physiology, Russian Academy of Sciences, nab. Makarova, 6, Saint Petersburg, 199034, Russian Federation

https://orcid.org/0000-0003-3617-5948

Eugene Daev

Department of Genetics and Biotechnology, Faculty of Biology, Saint Petersburg State University, Universitetskaya nab., 7–9, Saint Petersburg, 199034, Russian Federation; Laboratory of Higher Nervous Activity Genetics, Pavlov Institute of Physiology, Russian Academy of Sciences, nab. Makarova, 6, Saint Petersburg, 199034, Russian Federation

https://orcid.org/0000-0003-2036-6790
Abstract
Changes of genome stability in hippocampal cells of male rats with hereditary high and low thresholds of nervus tibialis response to electric stimuli (HT and LT strains, respectively) were studied in unstressed and stressed animals. HT and LT originated from Wistar strain, males of which were also used as a control. The comet assay was used after prolonged emotional painful stressor action. There were no interstrain differences in the spontaneous percentage of DNA in comet tails (tDNA). However, the prolonged emotional pain stressor induced genome instability differently in animals of different strains. The highest level of DNA damage in hippocampal cells was shown in highly sensitive animals of LT strain. Males of Wistar strain had intermediate levels of tDNA, while HT animals had the lowest stress reactivity.
Keywords:
DNA damage, comet assay, stress, hippocampus, nervous sensitivity, selection, rats, genome instability
Downloads
Download data is not yet available.
References
Hecht, K., Trepetov, K., Choinovski, K., and Peschel, M. 1972. Die raum-zetliche organization der reiz-reactios-beziehungen bedingtreflectorisher prozesse. 213 s. Fisher, Yena.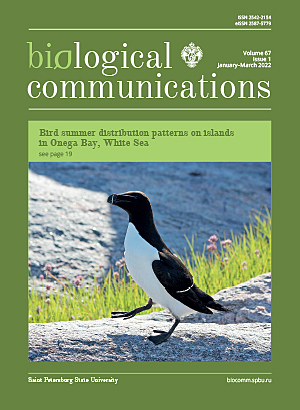 How to Cite
Shcherbinina, V., Vaido, A., Khlebaeva, D., Dyuzhikova, N., & Daev, E. (2022). Genome response of hippocampal cells to stress in male rats with different excitability of the nervous system. Biological Communications, 67(1), 12–18. https://doi.org/10.21638/spbu03.2022.102
Section
Full communications
Articles of Biological Communications are open access distributed under the terms of the License Agreement with Saint Petersburg State University, which permits to the authors unrestricted distribution and self-archiving free of charge.