Constant darkness conditions modulate the effects of melatonin and luzindole on the antioxidant enzyme activities and levels of retinol and α-tocopherol in rats
Abstract
This study was conducted to evaluate the effects of both exogenous melatonin and melatonin receptor antagonist luzindole on the activities of antioxidant enzymes (AOE) (superoxide dismutase, SOD; catalase, CAT) and the level of low-molecular antioxidant vitamins (retinol, α-tocopherol) in male Wistar rats kept in normal light conditions (LD 12:12) or constant darkness (DD). In LD, while melatonin had no influence on the studied antioxidants, luzindole caused an increase in retinol and a decrease in α-tocopherol contents in the liver compared to the control. In DD, with no influence on AOE activities, both drugs exerted similar effects on the liver retinol and kidney α-tocopherol contents, increasing them in comparison with control. Exposing the animals to DD induced an increase in kidney SOD activity and in liver retinol content. Moreover, DD-mel rats had higher SOD activity in the liver and kidney and a higher retinol level in the liver compared to LD-mel ones; DD-luz rats had a higher liver retinol content compared to LD-luz ones. Liver retinol level seems to be the most sensitive to influence of DD, melatonin and luzindole; the data are probably connected with the involvement of vitamin A in the regulation of circadian rhythms.
Keywords:
constant darkness, melatonin, luzindole, antioxidant enzymes, retinol, α-tocopherol
Downloads
Download data is not yet available.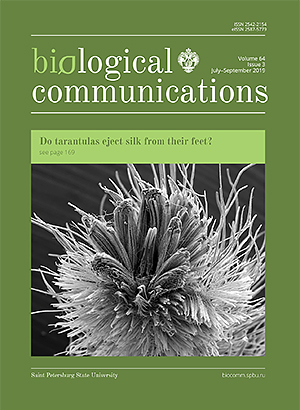 How to Cite
Kalinina, S., Ilyukha, V., Khizhkin, E., Baishnikova, I., Antonova, E., & Morozov, A. (2019). Constant darkness conditions modulate the effects of melatonin and luzindole on the antioxidant enzyme activities and levels of retinol and α-tocopherol in rats. Biological Communications, 64(3), 211–218. https://doi.org/10.21638/spbu03.2019.305
Section
Full communications
Articles of Biological Communications are open access distributed under the terms of the License Agreement with Saint Petersburg State University, which permits to the authors unrestricted distribution and self-archiving free of charge.