Soil physical and chemical properties changes after zinc contamination
Tatiana Bauer

Southern Federal University, 105, Bolshaya Sadovaya Street, 344090, Rostov-on-Don, Russian Federation

https://orcid.org/0000-0002-6751-8686

Tatiana Minkina

Southern Federal University, 105, Bolshaya Sadovaya Street, 344090, Rostov-on-Don, Russian Federation

https://orcid.org/0000-0003-3022-0883

David Pinskii

Institute of Physicochemical and Biological Problems of Soil Science, Russian Academy of Sciences, 2, Institutskaya Street, 142290, Pushchino, Russian Federation

https://orcid.org/0000-0002-5834-5648

Inna Zamulina

Southern Federal University, 105, Bolshaya Sadovaya Street, 344090, Rostov-on-Don, Russian Federation

Saglara Mandzhieva

Southern Federal University, 105, Bolshaya Sadovaya Street, 344090, Rostov-on-Don, Russian Federation

https://orcid.org/0000-0001-6000-2209

Dina Nevidomskaya

Southern Federal University, 105, Bolshaya Sadovaya Street, 344090, Rostov-on-Don, Russian Federation

https://orcid.org/0000-0002-0138-4443

Marina Burachevskaya

Southern Federal University, 105, Bolshaya Sadovaya Street, 344090, Rostov-on-Don, Russian Federation

https://orcid.org/0000-0002-0533-0418
Abstract
The aim of this work was to study the effect of a high rate of Zn on the chemical bond forms of metal in soil and on the physical properties and organic matter of Haplic Chernozem under model experiment conditions. The metal sequential extraction procedure used in this study was the classical five-step method proposed by Tessier et al. (1979). The particle size distribution was determined by the pipette method (using the pyrophosphate procedure of soil preparation) (GOST 12536-79). The microaggregate distribution was determined in the same way as the particle size distribution analysis above, except that there was no chemical dispersant (sodium pyrophosphate) applied (only mechanical agitation with water) (GOST 12536-79; Vadyunina and Korchagina, 1973). The qualitative composition of organic matter was determined using the Tyurin procedure modified by Ponomareva and Plotnikova (Vorob'eva, 2006). Contamination of Haplic Chernozem with Zn acetates at high rates of 2000 mg/kg affected the physical and chemical properties of the soil. A significant increase in the first two soil fractions least strongly bound to the soil was observed in contaminated soils. Silicates and Fe-Mn oxides made the largest contribution to the Zn adsorption and retention. The content of organo-mineral particles in colloidal size increased, which resulted in an increase of the clay fraction content up to 4.5 % compared to the control. The qualitative composition of organic matter changed: the contents of free and sesquioxide-bound humic acids and free fulvic acids increased. Studies of soil physical properties and organic matter quality changes and chemical bond forms of Zn in soil are needed to better understand metal behaviors in the environment and implement repair strategies in different polluted soils.
Keywords:
zinc, soil, fractional composition, organic matter, particle size distribution, structural status, aggregate content
Downloads
Download data is not yet available.
References
Dolgov, S. I. and Bahktin, P. U. 1966. Agrophysical methods of soil examination. Kolos, Moscow.
GOST 12536-79. 1979. Soils. Methods of laboratory particle-size and microaggregate-size distributions.
GOST 28268-89. 2006. Soils. Methods for determination of moisture, maximum hygroscopic moisture and moisture of steady plant fading.
Grishina, L. A., Koptsik, G. N., and Makarov, M. I. 1990. Transformatsiya organicheskogo veshchestva pochv [Transformation of Soil Organic Matter]. Moscow State University, Moscow.
IUSS Working Group WRB. 2015. World Reference Base for Soil Resources 2014, update 2015. International soil classification system for naming soils and creating legends for soil maps. World Soil Resources Reports 106. FAO, Rome.
Kabata-Pendias, A. and Pendias, H. 1985. Trace elements in soils and plants. CRC Press, Boca Raton. 315pp.
Kachinskii, N. A. 1958. Particle-size and microaggregate composition of soil and methods of its study. AN SSSR, Moscow.
Motuzova, G. V. and Bezuglova, O. S. 2007. Ekologicheskii monitoring pochv [Ecological Monitoring of Soils], Moscow: Akademicheskii proekt. 237 pp.
Motuzova, G. V., Makarychev, I. P., Dergham, H. M., Stepanov, A. A., and Barsova, N. U. 2012. Soil organic matter and their interactions with metals: processes, factors, ecological significance. Nova Science Publishers, New York. 136 pp.
Ramos, L., Hernandez, L. M., and Gonzalez, M. J. 1994. Sequential fraction of copper, lead, Raton, USA.
Sokolova, T. A. 1985. Zakonomernosti profil'nogo raspredeleniya vysokodispersnykh mineralov v razlichnykh tipakh pochv [Profile distributions of finely dispersed minerals in different soil types]. Moscow State University, Moscow. 86pp.
Vadyunina, A. F. and Korchagina, Z. A. 1973. Methods of studying the physical properties of soils and sediments. Vysshaya Shkola, Moscow.
Vorob'eva, L. A. (ed) 2006. Theory and practice of the chemical analysis of soils. GEOS, Moscow. 400pp.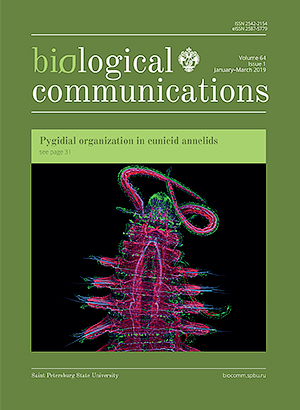 How to Cite
Bauer, T., Minkina, T., Pinskii, D., Zamulina, I., Mandzhieva, S., Nevidomskaya, D., & Burachevskaya, M. (2019). Soil physical and chemical properties changes after zinc contamination. Biological Communications, 64(1), 46–54. https://doi.org/10.21638/spbu03.2019.106
Section
Full communications
Articles of Biological Communications are open access distributed under the terms of the License Agreement with Saint Petersburg State University, which permits to the authors unrestricted distribution and self-archiving free of charge.