Using of biochemical markers in active monitoring of contaminated marine environment
Nadezhda Dovzhenko

V.I. Il`ichev Pacific Oceanological Institute, Far Eastern Branch, Russian Academy of Science, 43, Baltiyskaya Str., Vladivostok, 690041, Russian Federation

Nina Belcheva

V.I. Il`ichev Pacific Oceanological Institute, Far Eastern Branch, Russian Academy of Science, 43, Baltiyskaya Str., Vladivostok, 690041, Russian Federation

Viktor Kavun

A. V. Zhirmunsky Institute of Marine Biology, National Scientific Center of Marine Biology, Far Eastern Branch, Russian Academy of Sciences, 17, Palchevskogo Str., Vladivostok, 690041, Russian Federation

Viktor Chelomin

V.I. Il`ichev Pacific Oceanological Institute, Far Eastern Branch, Russian Academy of Science, 43, Baltiyskaya Str., Vladivostok, 690041, Russian Federation
Abstract
Mussels from Vostochnaya Bay, a reference site in the Peter the Great Bay of the East Sea, were transplanted to contaminated Desantnaya Bay for 30 days. As biochemical indices, superoxide dismutase (SOD), catalase, glutathione reductase, total oxyradical scavenging capacity (TOSC), glutathione, lipid peroxidation products were measured in mussel digestive gland and gills. Biomarker responses varied between indigenous and transplanted animals. In transplanted mussels, the lipid peroxidation process in digestive gland was significantly stimulated (the level of conjugated dienes increased 2.5-fold; malondialdehyde — 2-fold and lipofuscin contents were increased 4-fold). The total oxyradical scavenging capacity in digestive gland fell by 50 %, whereas contents of glutathione increased 2-fold.
Keywords:
antioxidant system, oxidative stress, pollution, mollusk, transplantation
Downloads
Download data is not yet available.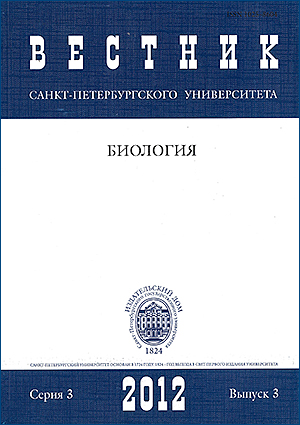 How to Cite
Dovzhenko, N., Belcheva, N., Kavun, V., & Chelomin, V. (2012). Using of biochemical markers in active monitoring of contaminated marine environment. Biological Communications, (3), 12–24. Retrieved from https://biocomm.spbu.ru/article/view/3350
Section
Full communications
Articles of Biological Communications are open access distributed under the terms of the License Agreement with Saint Petersburg State University, which permits to the authors unrestricted distribution and self-archiving free of charge.