Contribution to bat (Chiroptera) fauna and ecology of Belgorod region
Anton Vlaschenko

V.N. Karazin Kharkiv National University, 4, Svobody Square, Kharkiv, 61000, Ukraine

Alyona Gukasova

Saint Petersburg State University, 7–9, Universitetskaya nab., Saint Petersburg, 199034, Russian Federation

Alexander Shapovalov

Belogorye Nature Reserve, Borisovka, 309342, Russian Federation
Abstract
The article presents the results of an episodical research of bats within the territory of Belgorod region, namely the State natural preserve «Belogorie». 8 bat species were caught, but taking into consideration the literature data we can assume that the full list of bat could include 12 species or more. Data on habitat distribution are presented, two species P. auritus and N. leisleri were found in untypical habitats. Some particularities of ecology of N. noctula within the territory of «Les na Vorsckle» are presented. The winter records of bats in the region are also presented.
Keywords:
bats, Belgorod region, Nature Preserve, tree hollows
Downloads
Download data is not yet available.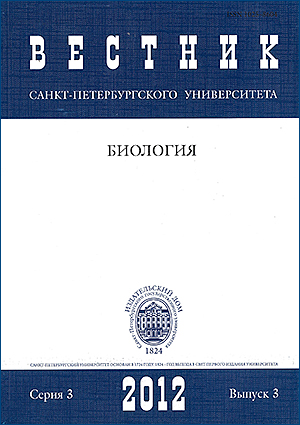 How to Cite
Vlaschenko, A., Gukasova, A., & Shapovalov, A. (2012). Contribution to bat (Chiroptera) fauna and ecology of Belgorod region. Biological Communications, (3), 3–11. Retrieved from https://biocomm.spbu.ru/article/view/3349
Section
Full communications
Articles of Biological Communications are open access distributed under the terms of the License Agreement with Saint Petersburg State University, which permits to the authors unrestricted distribution and self-archiving free of charge.