Lateralized motor responses in anuran amphibians — an overview of methods and perspectives of studies
Yegor Malashichev

Department of Vertebrate Zoology, Faculty of Biology, Saint Petersburg State University, Universitetskaya nab., 7–9, Saint Petersburg, 199034, Russian Federation; Laboratory of Molecular Neurobiology, Institute of Experimental Medicine, ul. Acad. Pavlova, 12, Saint Petersburg, 197376, Russian Federation

https://orcid.org/0000-0003-3813-5712

Andrew Robins

Centre for Animal Welfare and Ethics, School of Veterinary Science, University of Queensland, Gatton, Australia

https://orcid.org/0000-0001-7806-8409
Abstract
Anuran amphibians represent the most usual subjects for experimental biological research and a divergent group of extant vertebrates comprising species adapted to a variety of environments from aquatic to arboreal. Thus, they become excellent models in research of motor lateralization due to their different phylogenetic position and their anatomical and ecological diversity throughout their evolutionary history, as well as variety of locomotive habits and a diversity of limb use during walking, swimming, feeding and other activities. From the first works in mid-1990's to the present day, a noticeable progress, a noticeable progress in the study of motor lateralization in anurans is made favored by a set of methodological approaches and their application to various species and life stages. Together, these advances foretell a plethora of interesting developments in the world of laterality research with the anuran amphibian model. Here, the discovery of right-pawedness in toads through the development of a set of different techniques to assess motor lateralization in anuran amphibians, and, as a consequence — important results revealing behavioral and morphological correlates are reviewed and discussed in evolutionary and eco-morphological perspective.
Keywords:
anuran amphibians, lateralization, motor asymmetries, C-start, tadpoles, frogs, snout-wiping response, righting response, asynchronous locomotion, evolution of motor skills
Downloads
Download data is not yet available.
References
Malashichev, Y. B. and Rogers, L. J. 2002. Behavioural and Morphological Asymmetries in Amphibians and Reptiles: Psychology Press Ltd.
Sullivan, R. A. 2018. Handedness is not linked to locomotion in a basal anuran (ProQuest No. 10808549). Master Thesis, Southern Illinois University, Edwardsville.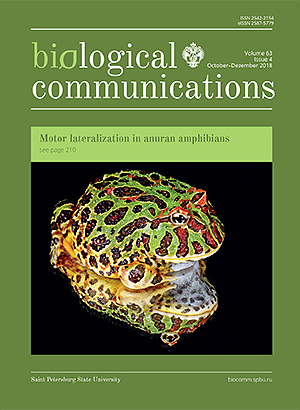 How to Cite
Malashichev, Y., & Robins, A. (2019). Lateralized motor responses in anuran amphibians — an overview of methods and perspectives of studies. Biological Communications, 63(4), 210–242. https://doi.org/10.21638/spbu03.2018.402
Section
Review communications
Articles of Biological Communications are open access distributed under the terms of the License Agreement with Saint Petersburg State University, which permits to the authors unrestricted distribution and self-archiving free of charge.