Molecular cytogenetic characterization of two murine cancer cell lines derived from salivary gland
Ralf Steinacker

Jena University Hospital, Friedrich Schiller University, Institute of Human Genetics, Am Klinikum 1, D-07747 Jena, Germany

Thomas Liehr

Jena University Hospital, Friedrich Schiller University, Institute of Human Genetics, Am Klinikum 1, D-07747 Jena, Germany

https://orcid.org/0000-0003-1672-3054

Nadezda Kosyakova

Jena University Hospital, Friedrich Schiller University, Institute of Human Genetics, Am Klinikum 1, D-07747 Jena, Germany

Martina Rincic

Department for Functional Genomics, Centre for Translational and Clinical Research, University Hospital Centre Zagreb, University of Zagreb School of Medicine, Zagreb, Croatia

Shaymaa S. Hussein Azawi

Jena University Hospital, Friedrich Schiller University, Institute of Human Genetics, Am Klinikum 1, D-07747 Jena, Germany
Abstract
Here two murine salivary gland cancer (SGC) cell lines WR21 and SCA-9 were studied for the first time in detail by high-resolution molecular cytogenetic approaches. This study revealed that these cell lines are models for human SGCs of initial stage myoepithelioid or mucoepidermoid (WR21) and of advanced stage mucoepidermoid (SCA-9) tumors. Besides, three genes most likely playing a role in SGC development (FGF10, ELAVL1/HUR and SEL1) were identified. All of them were involved in translocation events in these in vitro models and thus were most likely activated. Overall, the present study highlights the necessity not only to establish but also to genetically characterize murine tumor cell lines. Without such a characterization they cannot be used in a reasonable way in research.
Keywords:
salivary gland cancer (SGC), murine tumor cell lines, WR21, SCA-9, myoepithelioid SGC, mucoepidermoid SGC, FGF10, ELAVL1/HUR, SEL1
Downloads
Download data is not yet available.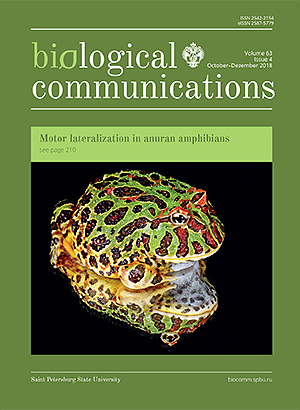 How to Cite
Steinacker, R., Liehr, T., Kosyakova, N., Rincic, M., & Hussein Azawi, S. S. (2019). Molecular cytogenetic characterization of two murine cancer cell lines derived from salivary gland. Biological Communications, 63(4), 243–255. https://doi.org/10.21638/spbu03.2018.403
Section
Full communications
Articles of Biological Communications are open access distributed under the terms of the License Agreement with Saint Petersburg State University, which permits to the authors unrestricted distribution and self-archiving free of charge.