Temporal and spatial variability of environments drive the patterns of species richness along latitudinal, elevational, and depth gradients
Nikolay Kolomiytsev

Department of Biology, Cherepovets State University, 5 Lunacharsky Ave., Cherepovets, Vologda Region, 162600, Russian Federation

https://orcid.org/0000-0002-9693-9826

Nadezhda Poddubnaya

Department of Biology, Cherepovets State University, 5 Lunacharsky Ave., Cherepovets, Vologda Region, 162600, Russian Federation

https://orcid.org/0000-0001-9109-1363
Abstract
This paper seeks to shed light on the primary causes of the latitudinal cline in species diversity, the asymmetry in species richness between the northern and southern hemispheres, and various patterns of species richness along mountain and continental slopes, which are at present of central interest in ecology. To that end, we restate, further develop and unify Janzen's ideas about the higher fidelity of tropical organisms to their habitats; the notions of Sanders on temporal and spatial variations of environment and their impact on the breadth of species adaptations; the hypothesis of latitude-niche breadth and niche overlap; the theories of climatic stability, competitive exclusion and competitive divergence with the incorporation of some elements of the gradient model of diversification. We argue that during adaptation to a wide range of the same environmental factors in time, the high latitude species also become adapted to a wide range of those factors in space. As a result, they form not only very wide, but also widely overlapping ecological niches. This eventually leads to the competitive extinction of many species and a general impoverishment of biota. In contrast, relatively stable environments allow species to move more and more towards specialization with a simultaneous narrowing of their ecological niches that in turn leads to a reduction of niche overlap and greater species packing in communities. In tropical mountains and on the continental slope, where the environment is stable enough, the degree of its differentiation depends mainly on the steepness of slope. And since the steepest slopes tend to be located at intermediate elevations and intermediate bathyal depths, it is there that there are conditions for the highest specialization. These ideas can provide a framework for new approaches to biodiversity conservation of different regions.
Keywords:
competitive divergence, competitive extinction, environmental variability, niche overlap, specialization, species packing, species richness
Downloads
Download data is not yet available.
References
Boltovskoy, D., Gibbons, M. J., Hutchings, L., and Binet, D. 1999. General biological features of the South Atlantic; pp. 1−42 in Boltovskoy, D. (Ed) South Atlantic zooplankton, Leiden, Backhuys Publishers.
Colwell, M. A. 2010. Shorebird ecology, conservation, and management. 344 pp. University of California Press, Berkeley and Los Angeles.
Crame, J. A. 2000. The nature and origin of taxonomic diversity gradients in marine bivalves; pp. 347−360 in: Harper E. M., Taylor J. D., and Crame J. A. (Eds) The evolutionary biology of the Bivalvia. Geological Society of London, Special Publication, 177, London, Alden Press.
Darwin, C. 1845/2008. The Voyage of the Beagle, Cosimo, New York.
de Oliveira, T. G. 1994. Neotropical cats: ecology and conservation. São Luís, Edufma.
Gardner, A. L. 2007. Mammals of South America. Volume 1: Marsupials, Xenarthrans, Shrews and Bats. University of Chicago Press, Chicago.
Gaston, A. J., and Jones, I. L. 1998. The auks: Alcidae. Oxford University Press, Oxford.
Gause, G. F. 1934. The Struggle for Existence. Williams and Wilkins, Baltimore.
Grinnell, J., and Storer, T. I. 1924. Animal Life in the Yosemite. University of California Press, Berkeley.
Hartmann, D. L. 1994. Global physical climatology. Academic Press, San Diego.
Hoare, B. 2009. Animal migration: remarkable journeys in the wild. University of California Press, Berkeley.
Huston, M. A. 1994. Biological diversity. Cambridge University Press, Cambridge.
Johnsgard, P. A. 1981. The plovers, sandpipers, and snipes of the world, University of Nebraska Press, Lincoln.
Jonzen, N., Knudsen, E., Holt, R., Saether, B.-E. 2011. In: Milner-Gulland, E. J., Fryxell, J. M., and Sinclair, A. R. E. (Eds) Animal migration: a synthesis, Oxford, Oxford University Press 91−109.
Larsen, T. H., Escobar, F., and Armbrecht, I. 2011. Insects of the Tropical Andes: Diversity Patterns, Processes and Global Change; pp. 228−244 in: Herzog, S. K., Martínez, R., Joergensen, P. M., and Tiessen, H. (Eds). Climate change effects on the biodiversity of the tropical Andes: an assessment of the status of scientific knowledge. Brazil and Paris, Inter-American Institute for Global Change Research and Scientific Committee on Problems of the Environment, São José dos Campos.
MacArthur, R. H. 1972. Geographical ecology: patterns in the distribution of species. Princeton University Press, Princeton.
MacArthur, R. H. and Wilson, E. O. 1967. The theory of island biogeography. Princeton University Press, Princeton.
Mani, M. S. 1968. Ecology and biogeography of high altitude insects. Series Entomologica. Vol. 4. Dr. W. Junk N. V. Publishers, The Hague.
Mayr, E. 1963. Animal species and evolution. Harvard University Press, Cambridge.
Menzies, R. J., George, R. Y., and Rowe, G. T. 1973. Abyssal environment and ecology of the world oceans. Wiley-Interscience, New York and London.
Newton, I. 2008. The Migration Ecology of Birds. Academic Press, London.
Owen, R. W. 1981. Fronts and eddies in the sea: mechanisms, interactions and biological effects; pp. 197−233 in: Longhurst, AR (Ed) Analysis of marine ecosystems. London, Academic Press.
Pielou, E. C. 1979. Biogeography. Wiley Interscience, New York.
Pringle, C. M. 2000. River conservation in Latin America and the Caribbean; pp. 371−384 in Boon, PJ, Davies, BR & Petts, GE (Eds) Global Perspectives on River Conservation: Science, Policy and Practice. Chichester, John Wiley and Sons.
Rapoport, E. H. 1982. Areography: Geographical Strategies of Species, Pergamon Press, Oxford.
Rex, M. A. and Etter, R. J. 2010. Deep-Sea Biodiversity: Pattern and Scale. Harvard University Press, Cambridge.
Rosenzweig, M. L. 1995. Species diversity in space and time, Cambridge University Press, Cambridge.
Sarmiento, G. 1986. Ecologically crucial features of climate in high tropical mountains; pp. 11−46 in Vuilleumier, F. and Monasterio, M. (Eds). High altitude tropical biogeography. New York, Oxford University Press.
Schmalhausen, I. I. 1949. Factors of Evolution: The Theory of Stabilizing Selection. Blakiston, Philadelphia.
Veron, J. E. N. 1995. Corals in space and time: The biogeography and evolution of the scleractinia. University of the New South Wales Press, New South Wales, Sydney.
von Humboldt, A. 1808. Ansichten der Natur: mit wissenschaftlichen Erläuterungen. J. G. Cotta'schen Buchhandlung, Tübingen.
Wallace, A. R. 1878. Tropical nature and other essays. Macmillan, New York.
Williams, C. B. 1964. Patterns in the balance of nature: and related problems in quantitative ecology. Academic Press, New York.
Williams, T. D. 1995. The penguins: Spheniscidae. Oxford University Press, Oxford.
Wilson, D. E, and Reeder, D. M. (Eds) 2005. Mammal Species of the World: A Taxonomic and Geographic Reference, 3rd ed, Baltimor, Johns Hopkins University Press.
Wright, D. H., Currie, D. J., and Maurer, B. A. 1993. Energy supply and patterns of species richness on local and regional scales; pp. 66−74 in Ricklefs, R. E. and Schluter D. (Eds) Species Diversity in Ecological Communities. Chicago, University of Chicago Press.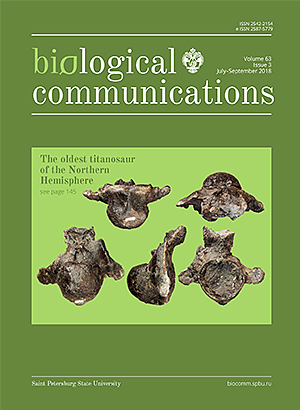 How to Cite
Kolomiytsev, N., & Poddubnaya, N. (2018). Temporal and spatial variability of environments drive the patterns of species richness along latitudinal, elevational, and depth gradients. Biological Communications, 63(3), 189–201. https://doi.org/10.21638/spbu03.2018.305
Section
Theoretical communications
Articles of Biological Communications are open access distributed under the terms of the License Agreement with Saint Petersburg State University, which permits to the authors unrestricted distribution and self-archiving free of charge.