Lithobiotic cyanobacteria diversity of the Karelian Isthmus
Oksana Rodina

Department of Crystallography, Institute of Earth Sciences, Saint Petersburg State University, per. Dekabristov, 16, Saint Petersburg, 199155, Russian Federation; Polar-Alpine Botanical Garden-Institute, ul. Fersmana, 18A, Apatity, 184209, Russian Federation

https://orcid.org/0000-0002-6598-6953

Denis Davydov

Polar-Alpine Botanical Garden-Institute, ul. Fersmana, 18A, Apatity, 184209, Russian Federation

https://orcid.org/0000-0002-0866-4747

Dmitry Vlasov

Department of Botany, Faculty of Biology, Saint Petersburg State University, Universitetskaya nab., 7–9, Saint Petersburg, 199034, Russian Federation

https://orcid.org/0000-0002-0455-1462
Abstract
This work presents data obtained as a result of studying the composition of cyanobacteria in lithobiotic communities on various substrates (Ruskeala marble, rapakivi-granite, granite gneiss) in different light conditions on the territory of the Karelian Isthmus: Leningrad Oblast, Republic of Karelia, and South Finland. The species composition of cyanobacteria was revealed, and the species composition on certain types of substrates was analyzed. A total of 49 species of cyanobacteria were noted for the Republic of Karelia (13 of which were not previously recorded in this territory). The detailed taxonomic and environmental characteristics of species are given. Changes in the species diversity of cyanobacteria in connection with specific habitats are shown. The type of substrate, the degree of moisture, and illumination are noted as the main factors determining the diversity of cyanobacteria in lithobiotic communities.
Keywords:
biofilms, cyanobacteria, lithobiotic communities, Ruskeala marble, rapakivi-granite
Downloads
Download data is not yet available.
References
Borisov, I. V. 2001. Ruskeala marble. Abstract. Fondy RMSP. (In Russian)
Bulakh, A. G. 1999. Saint-Petersburg stone decoration. Sudarynia Publ., St Petersburg. (In Russian)
Davydov, D. A. 2010a. Cyanoprokaryotes and their role in the process of nitrogen fixation in terrestrial ecosystems of the Murmansk region. GEOS Publ., Moscow. 178 pp. (In Russian)
Glazovskaya, M. A. and Dobrovolskaya, N. G. 1984. Geochemical function of microorganisms. Izdatel'stvo MGU Publ., Moscow. 152 pp. (In Russian)
Jaag, O. 1945. Untersuchungen tiber die Vegetation und Biologie der Algen des nackten Gesteins in den Alpen, im Jura und im schweizerischen Mittelland. Beitr. Kryptogamentl. Schweiz 9. 560 pp.
Komárek, J. 2013. Cyanoprokaryota. Teil 3: Heterocytous genera. Süsswasserflora von Mitteleuropa. Bd 19/3. Springer Spektrum, Berlin, Heidelberg. 1133 pp.
Komárek, J. and Anagnostidis, K. 1998. Cyanoprokaryota. 1. Teil. Part: Chroococcales. Spektrum, Berlin. 548 pp.
Komárek, J. and Anagnostidis, K. 2005. Cyanoprokaryota. 2. Teil. Part: Oscillatoriales. Spektrum, Berlin. 759 pp.
Kotai, J. 1972. Instructions for preparation of modified nutrient solution Z8 for algae. Norwegian Institute for Water Research, Blindern, Oslo 11/69, 5 pp.
Mur, L. R., Skulberg, O. M., and Utkilen, H. 1999. Cyanobacteria in the environment; Chapter 2 in Chorus, I. and Bartram, J. (eds), Toxic cyanobacteria in water: a guide to their public health consequences, monitoring and management.
Pentecost, A. and Whitton, B. A. 2000. The ecology of cyanobacteria — their diversity in time and space; pp. 257– 279 in Whitton, B. A. and Potts, M. (eds), Limestones. Kluwer Academic Publishers.
Shalygin, S. S. 2012. Groupings of epilithic and epiphytic cyanoprokaryotes of the Lapland nature reserve. Avtoreferat dissertacii kand. biol. nauk, Ufa. 17 pp. (In Russian)
Wasser, S. P., Kondratyeva, N. V., and Masyuk, N. P. 1989. Algae. Directory. Naukova Dumka Publ., Kiev. 608 pp. (In Russian)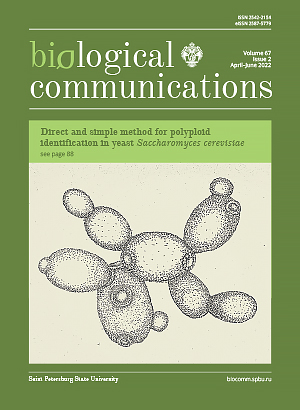 How to Cite
Rodina, O., Davydov, D., & Vlasov, D. (2022). Lithobiotic cyanobacteria diversity of the Karelian Isthmus. Biological Communications, 67(2), 97–112. https://doi.org/10.21638/spbu03.2022.203
Section
Full communications
Articles of Biological Communications are open access distributed under the terms of the License Agreement with Saint Petersburg State University, which permits to the authors unrestricted distribution and self-archiving free of charge.