Levels of dopamine, 5-hydroxytryptamine and their metabolites in the striatum of rats of various strains receiving a high-calorie diet
Abstract
The aim of this work was to study the effect of a high fat and carbohydrate diet (HFCD) and quercetin supplementation on the levels of dopamine (DA), serotonin (5-HT) and their metabolites in Wistar, DA transporter knockout (DAT-KO) and obese Zucker fa/fa rats. Animals received a control diet or HFCD for 62 days. Wistar and Zucker fa/fa rats received quercetin. The contents of DA, 5-HT, norepinephrine (NE), dioxyphenyl acetate (DOPAC), homovanillic acid (HVA) and 5-hydroxyindolyl acetate (5-HIIA) in the striatum were determined by high-performance liquid chromatography (HPLC). DAT-KO homozygotes had lowered DA and increased HVA and DOPAC compared to Wistar rats. HFCD did not affect the content of NE and 5-HT. 5-HT was increased in DAT-KO homozygotes compared with Wistar receiving a control diet. 5-HIIA accumulated in larger amounts in DAT-KO compared to Wistar with the exception of those receiving quercetin with a control diet. Quercetin did not affect the levels of DA, 5-HT and their metabolites.
Keywords:
dopamine, 5-hydroxytryptamine, rats, striatum, fat and carbohydrate excess, quercetin
Downloads
Download data is not yet available.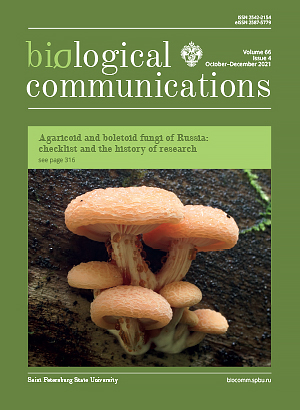 How to Cite
Apryatin, S., Efimova, E., Fesenko, Z., Shumakova, A., & Gmoshinski, I. (2021). Levels of dopamine, 5-hydroxytryptamine and their metabolites in the striatum of rats of various strains receiving a high-calorie diet. Biological Communications, 66(4), 326–332. https://doi.org/10.21638/spbu03.2021.405
Section
Brief communications
Articles of Biological Communications are open access distributed under the terms of the License Agreement with Saint Petersburg State University, which permits to the authors unrestricted distribution and self-archiving free of charge.